Merck Q2 sales soar on back of COVID drug Lagevrio, Keytruda; raises/narrows FY22 outlook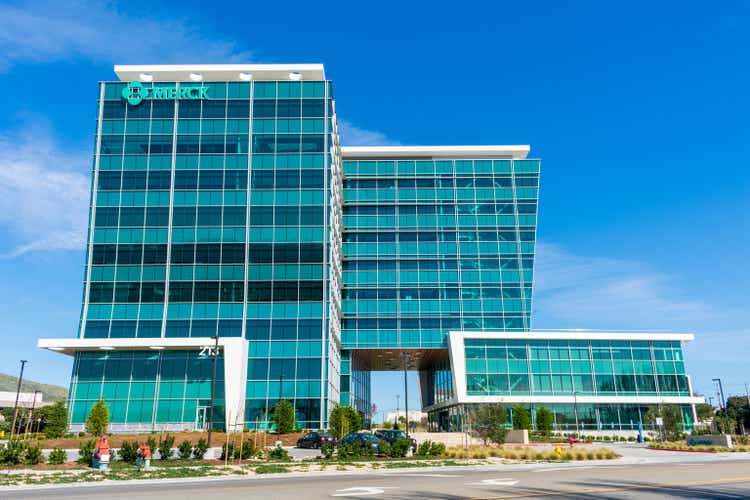 Merck's (NYSE:MRK) Q2 sales grew 28% Y/Y on the back of COVID therapy Lagevrio and blockbuster cancer drug Keytruda, and the company also raised and narrowed its FY22 outlook.
Q2 total sales grew +28% Y/Y to $14.59B.
COVID pill Lagevrio (molnupiravir), developed with Ridgeback, generated ~$1.18B, mainly from sales in Japan and the U.K. Merck said the initial commitment of the drug to the U.S. was fulfilled in Q1.
Pharmaceutical Revenue increased +28% Y/Y to $12.8B, mainly due to oncology, vaccines and hospital acute care products, Merck said in its July 28 earnings release.
The company noted that COVID-19 pandemic unfavorably affected sales in Q1 2021 by ~$400M, which favorably impacted the growth rate in Q2 2022.
Keytruda sales grew +26% Y/Y to 5.25B, while HPV vaccine GARDASIL/GARDASIL 9 sales rose +36% Y/Y to $1.67B.
Ovarian cancer drug Lynparza revenue increased +11% Y/Y to $275M.
Rotavirus vaccine RotaTeq sales fell -17% Y/Y to $173M.
Diabetes therapy Januvia/Janumet sales declined -2% Y/Y to ~$1.23B. The company said this mainly reflected the unfavorable effect of foreign exchange and lower pricing in certain international markets, partially offset by the impact of a prior year unfavorable adjustment to rebate reserves in the U.S.
HIV medicine Isentress/Isentress HD (raltegravir) sales decreased +24% Y/Y to $147M reflecting lower global demand.
Animal Health sales were flat Y/Y to $1.47B.
Q2 non-GAAP EPS rose to $1.87. The company said in 2022, it changed the treatment of certain items for non-GAAP reporting. Thus the previously reported Q2 2021 non-GAAP EPS of $1.31, was now revised to $0.61.
Merck added that gross margin declined to 71.1%, compared to 72.8% in Q2 2021, mainly due to impact from Lagevrio , which has a lower gross margin due to profit sharing with Ridgeback, and higher inventory write-offs, higher manufacturing costs and higher acquisition- and divestiture-related costs.
Outlook:
Merck said it was expects full year 2022 sales to be between $57.5B and $58.5B, while prior estimate was $56.9B – $58.1B provided in Q1 results in April. Consensus Revenue Estimate for 2022 is $58.08B. The company's current expectations reflecting Y/Y growth of 18% to 20%, including negative impact from foreign exchange of ~3%.
Merck expects non-GAAP EPS to be between $7.25 and $7.35, including negative impact from foreign exchange of ~3%, prior estimate of $7.24 – $7.36. Consensus EPS Estimate is $7.38.
The company expects GAAP EPS to be in the range of $5.89 to $5.99.
MRK +0.03% to $91.26 premarket July 28