PBF Energy routs Q2 estimates, to buy remaining stake in PBF Logistics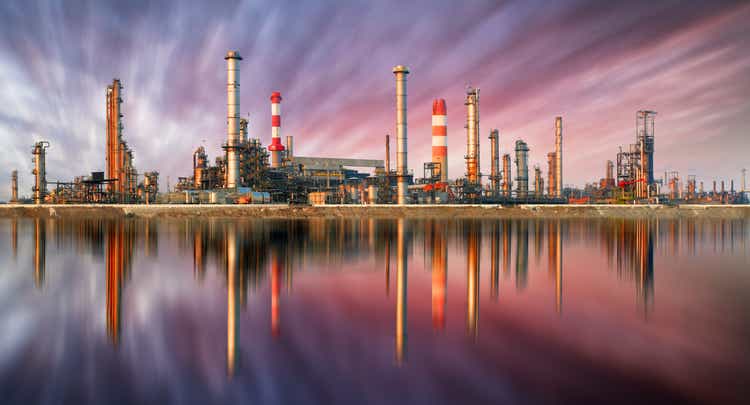 PBF Energy (NYSE:PBF) +4.4% pre-market Thursday after the first refiner to release quarterly earnings crushed Q2 expectations, beating adjusted EPS estimates by more than $3.00/share and doubling revenues to $14.1B.
Q2 attributable net income surged by 25x to $1.2B, or $9.65/share, from $47.9M, or $0.39/share, in the year-earlier quarter.
PBF (PBF) said its gross refining margin rose by more than 5x to $30.41/bbl of throughput in the quarter.
After Q2 total throughput rose 7.8% Y/Y to 85.8M barrels, PBF (PBF) forecasts full-year throughput for East Coast of 270K-290K bbl/day, Gulf Coast 175K-185K bbl/day, Mid-Continent 150K-160K bbl/day, West Coast 300K-320K bbl/day.
PBF Energy (PBF) also said it will acquire the ~52% of outstanding common units of PBF Logistics (NYSE:PBFX) it does not already own, in a deal valued at ~$575M; under the deal terms, the units will be converted into 0.270 shares of PBF Energy Class A common stock and $9.25 in cash.
The purchase price reflects a premium of 13.2% to the volume-weighted average price of PBF Logistics (PBFX) common units for the 30 days through July 27.
PBF Energy's (PBF) stock price return shows a 122% YTD gain and a 252% increase during the past year.