U.S. GDP falls for a second quarter, down 0.9% in first estimate (updated)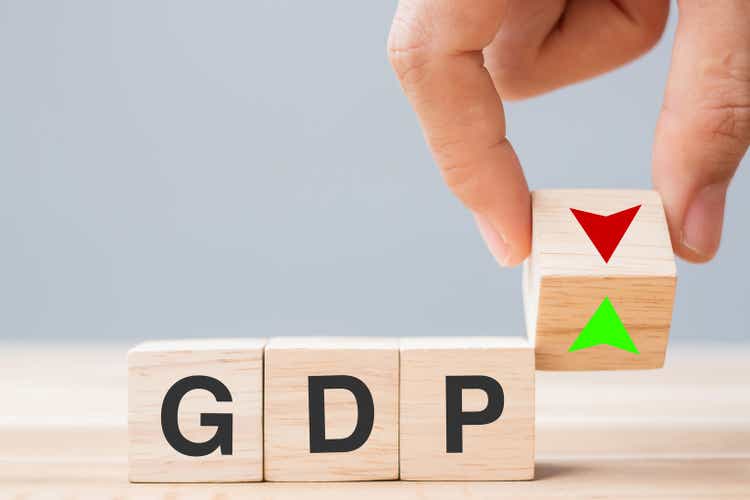 Q2 GDP (initial estimate) -0.9% vs. +0.5% consensus and -1.6% in Q1.
The decrease in real GDP showed that businesses spent less on inventory and consumers spent less on their homes. In addition, federal, state and local government also lowered their outlays. Those were partly offset by increases in exports and personal consumption.
Personal consumption expenditures: +1.0% vs. +1.3% consensus and 1.8% prior.
PCE price index: +7.1% vs. +7.1% prior.
Core PCE prices: +4.4% vs. +4.5% consensus and +5.2% prior.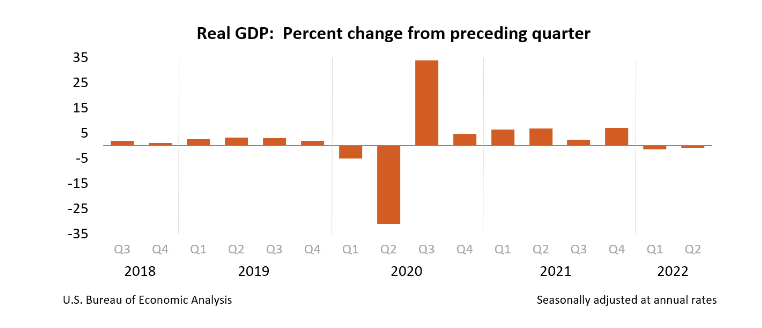 Personal income increased $353.8B in Q2 vs. $247.2B in Q1. Real disposable personal income dropped 0.5%, compared with a decrease of 7.8% in Q1.
Personal saving was $968.4B vs. $1.02T in Q1. The personal saving rate of 5.2% slipped from 5.6% in Q1.
Though some pundits consider two straight quarters of GDP decline a "technical" recession, it's a committee on the National Bureau of Economic Research that determines when a recession has occurred. The Business Cycle Dating Committee looks at three criteria — depth, diffusion, and duration.
Update at 8:59 AM ET: "We now know that the economy has contracted for two consecutive quarters. It is not entirely clear whether a recession has begun given the continued strength of the job market," said Bankrate Senior Economic Analyst Mark Hamrick.
Economist Mohammet El-Erian said: "Message is clear from the negative US GDP print (-0.9%) and unfavorable miss on jobless claims: "The US economy is slowing at a significant rate." That, along with increasing prices, means higher risk for stagflation and recession, he added.
On Wednesday, Federal Reserve Chair Jerome Powell said he didn't think the U.S. economy is currently in a recession because many parts of the economic are still strong, specifically the labor market. The U.S. is still creating jobs, he said during his post-meeting press conference.