Wingstop shares surge on profit beat, inflation mitigation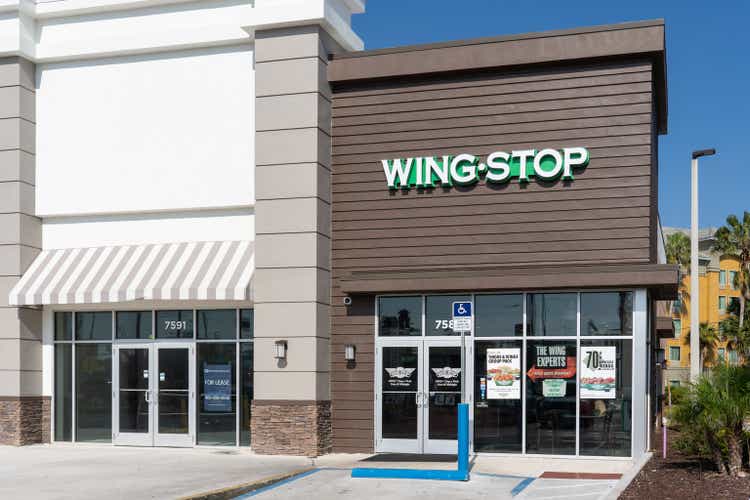 Wingstop (NASDAQ:WING) stock soared on Thursday after the company reported better than expected profits despite a rising cost of sales.
Shares of the Texas-based fast casual chain rose over 20% on Thursday, extending gains over the past month to over 60%.
The pop for the stock came after a report of non-GAAP EPS reaching $0.45 for the second quarter came in 25% above the bar set by Wall Street. Additionally, a 13.2% jump in revenue came up only about $2.31M short of estimates. System-wide sales increased 7.5% to $633.6M.
CEO Michael Skipworth noted that the profit performance came despite a rise in the cost of sales that included "higher labor costs, rent and other operating costs" as well as a jump in labor costs as the company competed for workers.
"Our second quarter results demonstrate the resiliency and underlying strength of the Wingstop brand as the unit economics have continued to strengthen throughout 2022, fueling another record number of net new openings this quarter," he said. "We are in a unique position for the back half of 2022 where we are benefiting from meaningful deflation in bone-in wings, have a proven playbook, along with sales-driving levers that give us confidence in our ability to deliver on our outlook for 2022."
On the food-inflation front, an 18.8% decrease in the cost of bone-in chicken wings as compared to the prior year period was noted as a significant tailwind as commodity inflation continues to abate.
Moving forward, management reaffirmed guidance that includes low-single digit domestic same store sales growth and diluted earnings per share of between $1.55 to $1.57. For the latter, analysts had anticipated a lower $1.53.
Elsewhere, the company declared a $0.19/share quarterly dividend, an 11.8% increase from prior dividend of $0.17.