Qualcomm sinks on weak Q4 guidance, but chips gain with broader market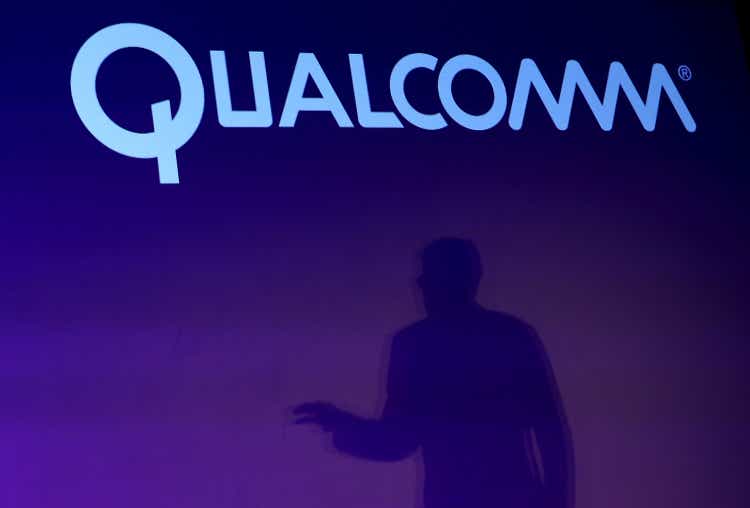 Qualcomm (NASDAQ:QCOM) shares fell on Thursday after the communications chipmaker offered weaker-than-expected fourth-quarter guidance. However, other semiconductor stocks were largely higher, accompanying the broader market.
Looking ahead, Qualcomm (QCOM) said adjusted earnings would be between $3 and $3.30 per share next quarter, with revenue between $11B and $11.8B. Analysts were expecting earnings of $3.25 per share and $11.86B in sales.
On the company's earnings call, Qualcomm (QCOM) Chief Financial Officer Akash Palkhiwala said the firm expects smartphones to see a "mid-single digit" decline year-over-year, citing weakness in mid-tier Android handsets, with 5G handsets now expected to be between 650M-700M for the year, down from a prior outlook.
UBS analyst Timothy Arcuri, who has a neutral rating on Qualcomm's (QCOM) stock, lowered his fiscal fourth-quarter estimates on the company to a profit of $3.13 a share, on revenue of $11.43B, from a prior forecast of $3.35 a share, on $12.35B in sales. Arcuri noted that "headwinds are likely to persist" after the company lowered its 5G smartphone guidance by roughly 75M units.
"Comps in China are bottoming, but these demand headwinds in general are likely to persist and there is the potential that in an effort to avoid leaving [money] on the table again like it did earlier this year due to component shortages, [Apple] sets a high bar for the supply chain and a final shoe could drop late this year," Arcuri wrote in a note to clients.
For the third-quarter ending June 26, Qualcomm (QCOM) said it earned $2.96 per share on $10.93B in revenue, aided by "record QCT Automotive and IoT revenues." Analysts were expecting the company to earn $2.86 per share on $10.87B in revenue.
Intel (NASDAQ:INTC) also fell on Thursday, declining nearly 1%, but other chipmakers rose, including Nvidia (NASDAQ:NVDA), Advanced Micro Devices (AMD), Texas Instruments (NASDAQ:TXN) and Analog Devices (ADI) gained nearly 1% in mid-day trading.
Other chip stocks, like Broadcom (AVGO), NXP Semiconductor (NXPI) and ON Semiconductor (ON) saw fractional gains.
Thursday's gains come after Wednesday's strong rally in the sector, aided by the Senate passing the CHIPS Act by a 64-33 vote, and soothing comments from the Federal Reserve, which raised its key interest rate 0.75%.
The legislation, which includes $52B in subsidies for domestic production and a previously reported investment tax credit for chip plants that could be worth an estimated $24B over the next decade, will now go to the House of Representatives.
In addition to aid for the semiconductor industry, the bill also authorizes $200B to boost scientific research over the next 10 years.
Speaker of the House Nancy Pelosi said on Wednesday that the House is getting ready to take up the legislation. Some have suggested the House could vote on the bill as soon as this week, as Pelosi has previously expressed support.
However, The Hill reported on Thursday that some Republican members of the House may oppose the bill after Senator Joe Manchin agreed to a $329B deal with Senate Majority Leader Chuck Schumer on healthcare spending, taxes and climate change.
Qualcomm (QCOM) and several other chip companies may decide to oppose the $52B CHIPS Act on grounds that the legislation does not do enough to support them and heavily favors manufacturers.