Amazon stock surges as AWS growth drowns out bottom line noise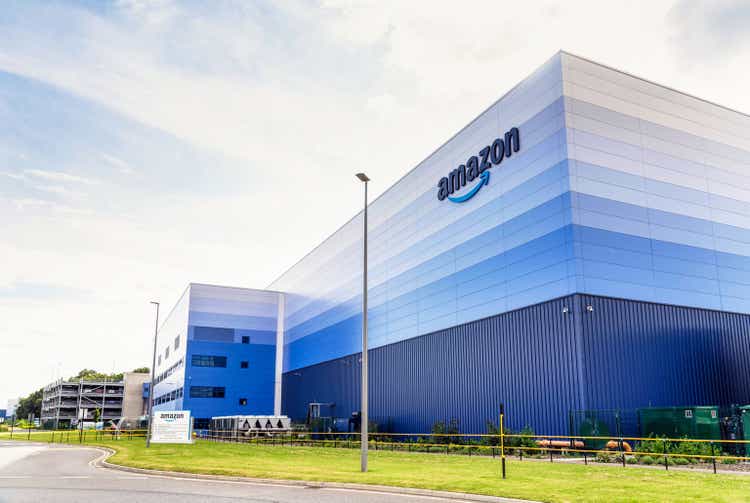 Amazon (NASDAQ:AMZN) shares accelerated in after hours trading on Thursday despite posting a net loss and light guidance for the third quarter.
Shares roared over 10% higher in extended trading as a focus on AWS acceleration and strong top-line growth overall overshadowed a noisy bottom line. Net sales overall increased 7% to $121.2B, pushing comfortably past the analyst consensus by $2.04B.
For the cash cow that is the cloud business, net sales grew from $14.8B in the prior year quarter to $19.74B in the second quarter of 2022. That rate marked a 33% gain from the prior year quarter.
Meanwhile, the bottom line was filled with key impacts that skewed the quarter toward $2B net loss, translating to a $0.20 loss per share. Analysts had anticipated a positive $0.12 EPS number, though that is likely not a fair comparison. Namely, the bottom line loss reflected a hefty $3.9B charge related to Amazon's (AMZN) stake in Rivian Automotive (RIVN). Operating cash flow also fell sharply, marking a 40% decline to $35.6B from the prior year amid the impacts.
After notching back to back multi-billion dollar losses on Rivian in the past two quarters, the market appears to believe the associated charges are nearly ironed out at this point. Additionally, CEO Andy Jassy indicated the company is navigating inflationary impacts effectively.
"Despite continued inflationary pressures in fuel, energy, and transportation costs, we're making progress on the more controllable costs we referenced last quarter, particularly improving the productivity of our fulfillment network," said Andy Jassy, Amazon CEO. "We're also seeing revenue accelerate as we continue to make Prime even better for members, both investing in faster shipping speeds, and adding unique benefits such as free delivery from Grubhub for a year, exclusive access to NFL Thursday Night Football games starting September 15, and releasing the highly anticipated series The Lord of the Rings: The Rings of Power on September."
Advertising, a growing business for Amazon (AMZN), also marked strong gains. Revenue in the segment rose to $8.76B, 18% higher than the prior year. The contrast with Meta Platforms' (META) recent report suggests the company could be taking share from its mega-cap tech rivals.
Moving forward, the company expects net sales for the third quarter to come in between $125B and $130B against a $126.58B consensus. Foreign exchange rate shifts are anticipated to inflict a 390 basis point impact for the third quarter. Meanwhile, operating income is expected to be between $0 and $3.5B, compared with $4.9B in third quarter 2021.
Read more on the company's investigation into AWS outages.