Biden met with Xi as Congress passed China competition bill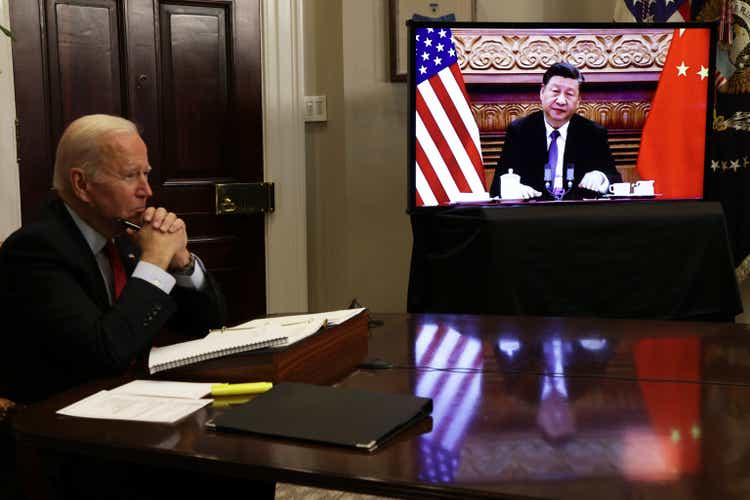 President Biden and Xi Jinping ended a two-hour call on Thursday with plans to arrange their first in-person meeting since Biden took office (Xi also hasn't left China since the pandemic given the country's strict zero-COVID strategy). The leaders of the world's two largest economies discussed areas of potential cooperation like climate change and healthcare, as well as stabilizing supply chains and protecting global food and energy security. Biden also pressed Xi not to support Russia's war in Ukraine, but didn't mention a possible rollback of Trump-era tariffs on Chinese imports.
Commentary: "That the call happened is a mild positive and shows both leaders want to maintain a floor under deteriorating bilateral ties," Eurasia Group analysts wrote in a research note. "Any future cessation of top-level U.S.-China dialogue would be a negative sign for global stability."
During the conversation, the two leaders also warned each other about rising confrontation over Taiwan, which has been exacerbated by a potential upcoming visit to the island by House Speaker Nancy Pelosi. "Those who play with fire will only get burnt," Xi told Biden, adding that he'll "resolutely safeguard China's national sovereignty and territorial integrity." In response, Biden reiterated the U.S. 'One China' policy - under which Beijing is only recognized as the sole government of China - but strongly opposed "unilateral efforts to change the status quo or undermine peace and stability across the Taiwan Strait."
China competition bill: Members of the House of Representatives voted 243-187 on Thursday to send the $280B Chips and Science Act to President Biden, who is expected to sign it into law in the coming days. The bill, which aims to make the U.S. more competitive with China, will provide $52B in subsidies for domestic chipmakers and more than $100B in technology and sciences investments. Washington has been worried about reliance on microchips made in Taiwan for years, but the dependence became more apparent during the pandemic, when supply chain issues affected everything from cars and electronics to healthcare equipment and advanced weapons systems.
ETFs: FXI, KWEB, CQQQ, MCHI, ASHR, YINN, TDF, CHIQ, GXC, EWH, KBA, YANG, CXSE, CAF, CWEB, PGJ, KURE, CHIX, CYB