Weyerhaeuser sees lower Timberlands adjusted EBITDA in Q3 even after Q2 beat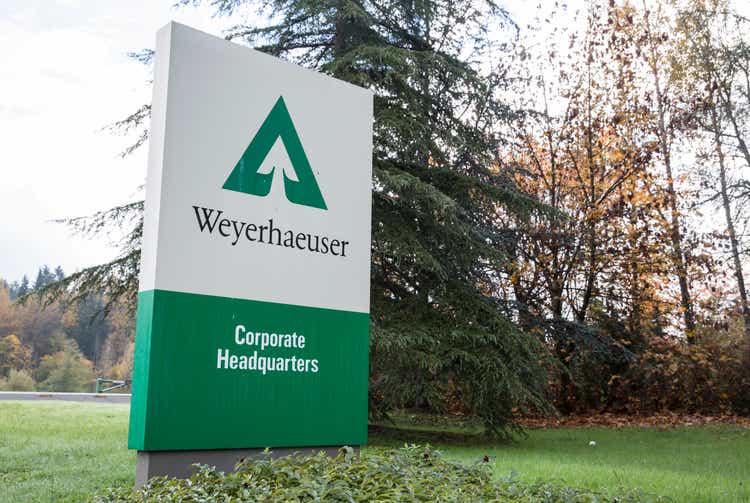 Weyerhaeuser Company (NYSE:WY) said Friday that its Timberlands segment is expected to generate lower earnings and adjusted EBITDA in Q3 vs. Q2 despite second-quarter results surpassing Wall Street expectations.
Still, the REIT sees Timberlands adjusted EBITDA "moderately higher" than Q3 a year ago.
Shares of WY are ticking up 0.4% in premarket trading.
For its Real Estate, Energy & Natural Resources business, Weyerhaeuser (WY) sees "slightly lower" earnings and adjusted EBITDA in Q3 vs. Q3 2021 due to a decline in acres sold Y/Y.
Wood Products earnings and adjusted EBITDA will be comparable to Q2, the company said.
Going forward, "we remain constructive on long-term demand fundamentals that support our businesses, notwithstanding the recent macroeconomic headwinds," said CEO and President Devin W. Stockfish.
During the second quarter, adjusted EPS of $1.06 exceeded the average analyst estimate of $0.98, and increased from $1.03 in Q1 but fell from $1.37 in Q2 2021.
Consolidated adjusted EBITDA of $1.21B at June 30 slid from $1.5B at March 31 and $1.6B at June 30 of last year.
Q2 Timberlands adjusted EBITDA was $219M, down from $247M in Q1. Domestic sales realizations were moderately lower and per unit log and haul costs were significantly higher as harvesting operations transitioned to higher elevation units, Weyerhaeuser said.
Adjusted EBITDA for Real Estate, Energy & Natural Resources came in at $107M in Q2 vs. $116M in Q1 due to lower real estate sales as well as a smaller price per acre.
Wood Products adjusted EBITDA of $912M in Q2 also dipped from $1.2B in Q1 given higher raw material costs, primarily for oriented strand board webstock.
Conference call at 7:00 a.m. PT (10:00 a.m. ET).
Earlier, Weyerhaeuser revenue of $2.97B beat by $140M.