UBS reveals its highest conviction stock picks for the rest of 2022
Jul. 31, 2022 2:57 PM ET
DuPont de Nemours, Inc. (DD), BA
WMT, AAPL, SRE, LNG, XLE, XLV, XLB, XLF, XLI, XLK, XLP, XLY, BKNG, MCD, BAC, VRTX, CAT, MU, MMM, ALL, MAT, ALK, SBAC, ORLY, BPOP, NDAQ, SPB, LH, STLD, AMP, EQR, OC, TMUS, RGA, TEL, V, GPK, SAIA, GNRC, MSCI, BERY, ACHC, IQV, FOXA, CRWD, HLT, NOMD, XLRE, XLC, MYTE, ONON
By:

Kim Khan,

SA News Editor
56 Comments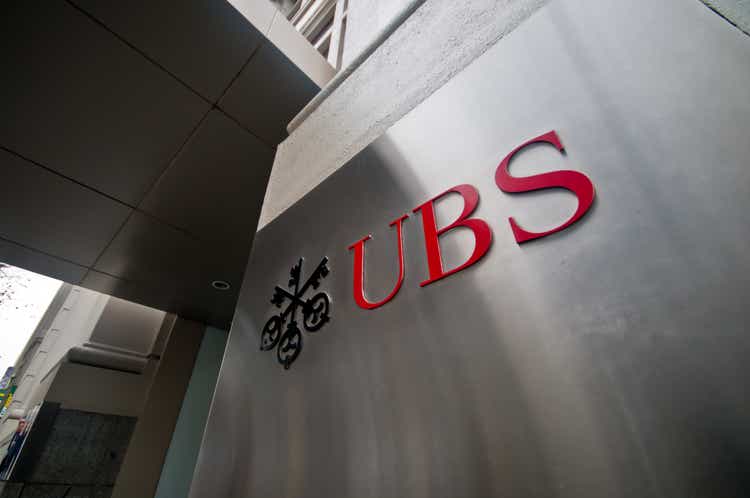 UBS surveyed its analysts for stocks with attractive upside vs. downside in volatile markets.
"We've focused on stocks where we believe our analysts have a truly differentiated view vs. consensus, and where we have interesting or proprietary data sources (from UBS Evidence Lab or elsewhere)," strategist Keith Parker wrote in a note. "From a strategy perspective, we've found that risk/reward is attractive when this much recession risk is priced (>80pctl) but as we move later cycle, avoiding the biggest underperformers becomes even more important for portfolio returns."
"Indeed, our analysts have identified opportunities with attractive upside vs downside skew in these volatile markets."
The top conviction picks by sector are:
DuPont (NYSE:DD), price target $96: "We believe the market is not currently appreciating the significant shift in DuPont's exposure and growth following a series of strategic actions."
Steel Dynamics (STLD), $105: "We assess steel prices should find support around pre-Russia/Ukraine levels of U $900-1,000/st into 2H22 (vs US$1,300/st spot), due to elevated iron ore/met coal prices, still well-above historical levels."
Berry Global (BERY), $78: "We believe lower leverage, stable/growing earnings, increasing circular feedstock mix, and a shift in cash return policy (more returns and growth investments) as factors that should shift investor sentiment more positive, pushing the stock higher."
Graphics Packaging (GPK), $26: "Our Buy rating on GPK reflects our view that the boxboard market is underappreciated following years of stagnant growth and limited pricing power."
Boeing (NYSE:BA), $263: "We believe BA is now a show-me story until confidence rebuilds which we think will begin with 787 deliveries restarting, consistently higher 737 deliveries and resumption of 737MAX operations/deliveries in China."
Saia (SAIA), $240: "In our view, SAIA stock already reflects the expectation of a significant freight downturn considering SAIA stock is off 45% in 2022 (vs the S&P 500 -18%). We believe the current valuation (14x on our 2022 EPS) is attractive."
MSCI (MSCI), $564: "While valuation remains elevated by historical standards, we continue to point to MSCI's best-in-class earnings growth and potential upside opportunities, specifically ESG and Climate, which should command a premium multiple."
3M (MMM), $118: "While 3M could be considered undervalued on the core business (organic growth/margins), we believe the stock still has downside risk due to the large uncertainty around ongoing/potential litigation."
TE Connectivity (TEL), $165: "The post-Covid economy has accelerated towards TEL behind a heightened focus on building resiliency and investments in connectivity. As these trends continue to take share of capex wallets, we see a sustainable uplift in market outgrowth vs historical levels - positive for both EPS &valuation."
Caterpillar (CAT), $250: "We think the narrative around the stock has been around the disappointing margins during the post-COVID upcycle and CAT missing an opportunity to capitalize on strong demand."
Generac Holdings (GNRC), $450: "Dominant market share (~80%) and strong demand for home stand-by power have insulated already high residential product margins from inflationary cost pressures."
Sempra Energy (SRE), $198: "As the clean energy transition accelerates, we see the potential for growth at Sempra to accelerate which would be upside to our base case."
Cheniere (LNG), $184: "We believe the market does not appreciate how liquefaction capacity is financed at the project level (& IG rated)."