Macau investors hope for casino traffic recovery in time for Golden Week in October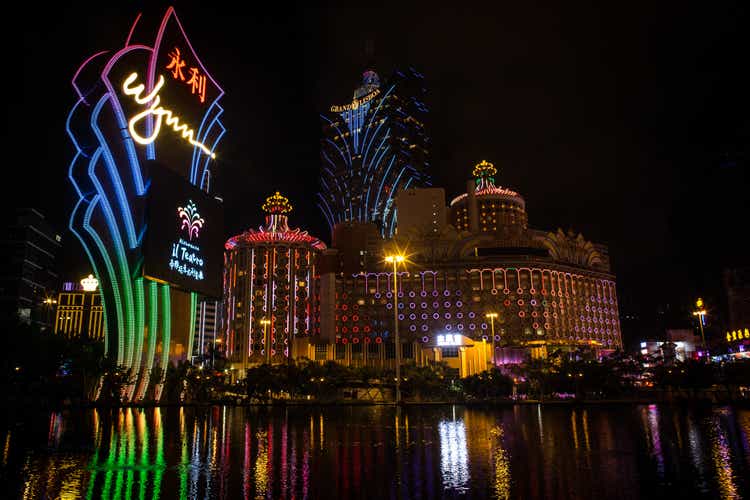 Macau will see more activity on August 2 when bars, restaurants, salons, gyms and entertainment venues reopen following a COVID-19 lockdown that lasted more than a month. Retail establishments will require visitors to show proof of a negative COVID test taken within the prior 72 hours in order to enter.
Casinos in Macau have already reopened after being closed for 12 days in July, which led to the lowest monthly gross gaming revenue tally ever for a month.
Macau casino investors have had their patience tested with the zero-tolerance COVID policy in China, but some analysts think the end is in sight. Bernstein said there is hope for border crossing rules to relax in early August, while JPMorgan predicted "meaningful business" could return in October for Macau casinos just ahead of the key Golden Week holiday.
Macau casino stocks: Wynn Macau (OTCPK:WYNMF) (OTCPK:WYNMY), Wynn Resorts (WYNN), Sands China (OTCPK:SCHYY) (OTCPK:SCHYF), Las Vegas Sands (LVS), MGM China (OTCPK:MCHVF) (OTCPK:MCHVY), MGM Resorts (MGM), Galaxy Entertainment (OTCPK:GXYEF), SJM Holdings (OTCPK:SJMHF) (OTCPK:SJMHY), Melco Resorts & Entertainment (NASDAQ:MLCO), and Studio City International (MSC).
Read more about the Macau gaming revenue report for July.