Alibaba, JD.com, Chinese tech stocks fall ahead of Pelosi's Taiwan trip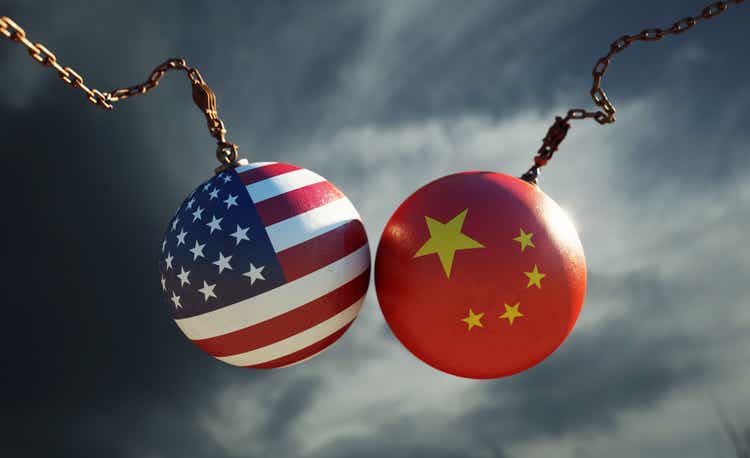 Chinese tech stocks, including Alibaba (NYSE:BABA), JD.com (NASDAQ:JD) and Baidu (NASDAQ:BIDU), fell on Tuesday, as investors fretted about increased geopolitical tensions amid House Speaker Nancy Pelosi's visit to Taiwan.
Alibaba (BABA), JD.com (JD) and Baidu (BIDU) each fell more than 2%, while smaller Chinese tech stocks, including Pinduoduo (PDD) and Bilibili (BILI) fell nearly 4%. Video game makers NetEase (NTES) and Kingsoft Cloud Holdings (KC) saw smaller losses.
Pelosi is expected to land in Taiwan at 10:20 a.m. ET, defying Chinese authorities who have warned of consequences if the trip takes place. Seeking Alpha reported that the White House has sought to distance itself from the visit, saying it cannot control another branch of government.
The U.S. has emphasized the trip does not signal a change in its 'One China' policy, however, Beijing has warned that its military will "never sit idly by" and "whoever plays with fire will get burnt."
Reuters reported that several Chinese fighter jets flew close to the Taiwan Strait early on Tuesday, ahead of Pelosi's visit.
The U.S. Navy had deployed four warships, including an aircraft carrier, east of Taiwan, on Tuesday, Reuters reported separately, something the Navy called the move routine.
"While they are able to respond to any eventuality, these are normal, routine deployments," an official, who spoke on the condition of anonymity, told the news outlet.
On Monday, Alibaba (BABA) said it would "strive" to keep its New York listing after the Securities and Exchange Commission said it may delist the company amid auditing concerns.