Gannett stock hits over 20-month low on guidance cut as print revenue shrinks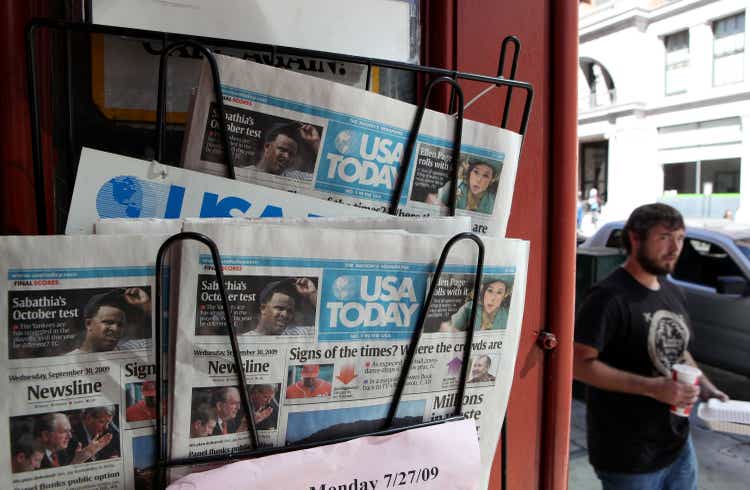 Gannett (NYSE:GCI) stock tumbled to an over 20-month low on Thursday after the media firm cut its 2022 guidance, citing lower print revenue, headwinds in digital advertising and rising costs.
GCI expects 2022 revenue of $2.95B-$3B vs. consensus estimate of $3.13B. Its prior outlook was $3.11B-$3.2B.
Same-store total revenue is projected to fall 7-6% Y/Y vs. prior guidance range of 2% decline to 1% growth.
Adj. EBITDA is estimated to be $270M-$300M vs. prior forecast of $380M-$400M.
"During the quarter, we experienced a rapidly tightening macroeconomic environment caused by rising inflation coupled with distribution labor shortages and price sensitive consumers which affected our traditional print business," said GCI CEO Michael Reed.
GCI reported Q2 EPS of -$0.39 vs. $0.10 in Q2 2021, hurt by inflationary pressures on labor, newsprint, distribution and fuel costs.
Revenue fell 6.9% Y/Y to $748.7M, with same store revenues down 6.3% Y/Y, driven by lower legacy print revenue.
Advertising and marketing services revenue declined 8.7% to $383.6M, and circulation revenue dropped 11.5% to $274.6M.
"We quickly responded to the rapidly deteriorating economic environment by implementing a significant cost reduction program," said Reed, adding that the cost cuts are focused on GCI's legacy print business.
GCI also identified additional non-strategic and real estate assets to bring to market.
The company plans to repay $150M-$200M of debt in 2022.
Shares of GCI have fallen 58.3% YTD.