AMC stock falls 7%, going 'APE' with preferred-stock dividend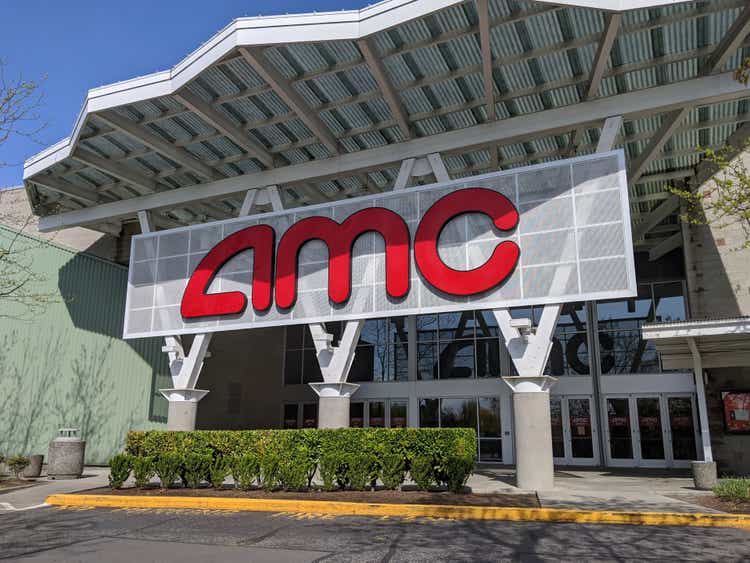 AMC Entertainment (NYSE:AMC) dropped 7% lower in after-hours trading after some in-line revenue results in its second-quarter earnings along with a better-than-expected loss - and plans for a special preferred stock for its retail-investor "Ape Army."
The stock was up as much as 5.5% immediately after the results, but the new equity, issued via a special dividend to shareholders, raised some worries about dilution.
The new preferred stock will be listed on the NYSE under the ticker symbol APE - representing not only AMC Preferred Equity but also a nod to the company's meme-friendly fanboy investors. And upon authorization by the company and investors, it could be convertible to AMC common shares.
And AMC is making an "I own APE" nonfungible token to be distributed to members of its Investor Connect program.
Revenues jumped 162% from a pandemic-hit Q2 2021, but the $1.16B figure still trailed the pre-pandemic Q2 of 2019, when the company logged $1.5B.
Net loss improved to $121.6M vs. a net loss of $344M a year ago. Adjusted EBITDA swung to a gain of $106.7M, vs. a prior-year loss of $150.8M.
The quarter "boosts our mood and brightens our prospects as we look ahead," says CEO Adam Aron. Attendance globally rose to 59M from 22M a year ago.
Revenue per patron was also exciting, he said, especially in high-margin food and beverages: F&B spending per patron was $7.52, up from $5.58 in Q2 2019. Internationally, F&B revenue rose 21.5%. And other revenues per patron were up to $2.01 from $1.22 in Q2 2019.
And while loss per share benefited from improved operations, it was also impacted by marking to market the "volatile" share price of the company's gold mining investment, in Hycroft Mining.
The special dividend of one APE unit per share of common stock should be paid at the close of business Aug. 19, with a record date of Aug. 15. The ex-dividend date will be Aug. 22.