Doximity stock hits 7-week low; Bank of America downgrades on macro pressures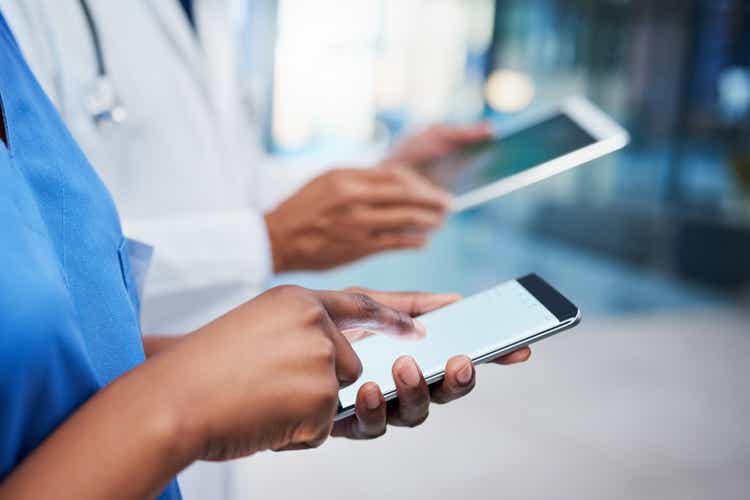 Doximity (NYSE:DOCS) stock extended losses, dropping to a 7-week low on Friday after the company slashed its FY guidance.
Bank of America downgraded DOCS to Underperform from Neutral, citing macro pressures.
The brokerage also cut its price target on DOCS to $29 (potential downside of 28% to last close) from $43, based on 25x CY23E EV/EBITDA, a premium to profitable health IT peers such as HealthEquity and Teladoc.
"We believe DOCS should trade at a premium to peers on a revenue and EBITDA multiple basis, given faster revenue growth and higher EBITDA margins," analyst Allen Lutz wrote in a note to clients.
Lutz said there is limited medium-term clarity around DOCS' growth normalization as some of its customers pulled back on mid-year upsells due to macro factors.
Peers like Medscape and names in paid search are becoming more aggressive on price, adding further near-term pressure to DOCS' revenue growth.
BofA cut its FY23 revenue estimates to $429.5M from $454.7M and FY24 estimates to $545.5M from $591.1M, citing macro pressures.
It also reduced FY23 EBITDA estimates to $181.0M from $195.7M and FY24 estimates to $222.7M from $248.9M, citing slower revenue growth and weaker gross margins.
Piper Sandler cut its PT on DOCS to $39 from $44, implying potential downside of 3.2% to last close.
"Sales challenges could persist or broaden and FY23 outlook is still not conservative. We continue to believe DOCS is best positioned to capture the secular shift from in-person to digital marketing within life sciences," said analyst Jessica Tassan.
Tassan believes transitory headwinds created a buying opportunity for long-term investors, reiterating Overweight rating.
While Wall Street analysts and SA authors are largely bullish on DOCS, SA Quant rating on the stock is Hold.
Shares of DOCS declined ~33% YTD.