Marijuana banking could be included in 'SAFE Banking Plus' compromise legislation - Booker
Aug. 05, 2022 10:38 AM ET
Trulieve Cannabis Corp. (TCNNF), CURLF, GTBIF, CRLBF
MMNFF, CCHWF, JUSHF, ACRHF, AYRWF, VRNOF
By:

Jonathan Block,

SA News Editor
50 Comments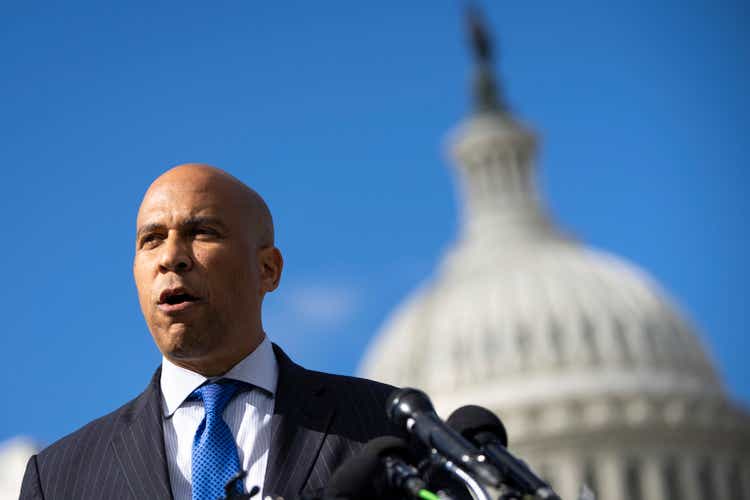 Signaling that compromise is possible with respect to marijuana legalization reform, Sen. Cory Booker said that he is open to a "SAFE Banking Plus" bill that would include provisions for marijuana business banking as well as criminal justice reform.
Speaking with Cheddar News, Booker said that compromise legislation would need to include Small Business Administration loans to small businesses.
Booker's comments are a bit of an about-face considering he once said he would "lay myself down" to prevent passage of a bill like SAFE Banking as he sees the legislation as primarily benefitting large cannabis interests. The senator noted that the cannabis industry in the U.S. currently has a ~1% minority ownership.
Booker admitted that he has a relatively short time to get some kind of marijuana reform legislation passed, before the new Senate is sworn in come January 2023.
The SAFE Banking Act has been passed multiple times in the House, but has stalled in the Senate. The legislation would allow legal cannabis enterprises to do business with the U.S. financial system.
Multi-state operators: Cresco Labs (OTCQX:CRLBF); Columbia Care (OTCQX:CCHWF); Trulieve Cannabis (OTCQX:TCNNF); Green Thumb Industries (OTCQX:GTBIF); Curaleaf Holdings (OTCPK:CURLF); MedMen Enterprises (OTCQB:MMNFF); Acreage Holdings (OTCQX:ACRHF); Ayr Wellness (OTCQX:AYRWF); Verano Holdings (OTCQX:VRNOF); and Jushi Holdings (OTCQX:JUSHF).
In July, Booker, one of the sponsors of the Cannabis Administration and Opportunity Act, held a hearing to discuss marijuana legalization.