Berkshire Hathaway Q2 earnings to highlight cash, stock holdings and economy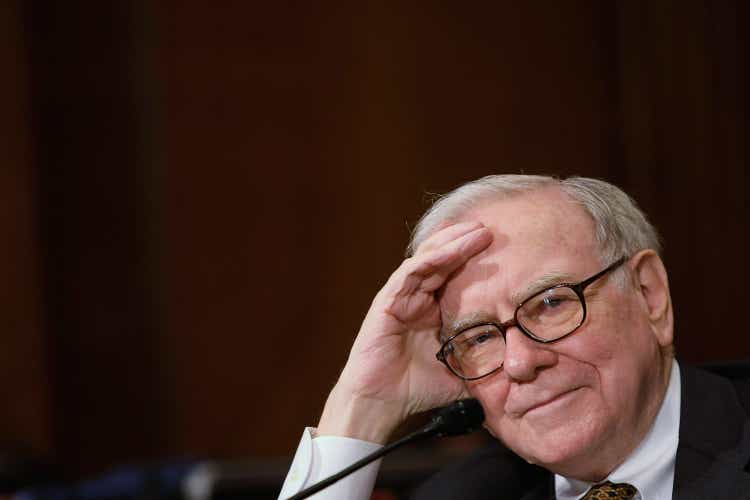 Berkshire Hathaway (NYSE:BRK.B) (NYSE:BRK.A) earnings not only reflect the diverse collection of businesses that the firm operates and invests in, it's a reflection of the U.S. economy. We'll see what's under the hood when Berkshire releases Q2 earnings on Saturday, 8:00 AM ET.
The behemoth that Warren Buffett built contains energy and utilities (PacifiCorp, MidAmerican Energy), transportation (railroad BNSF), insurance (GEICO), manufacturing (Precision Castparts, Lubrizol, Clayton Homes), real estate, consumer products (Fruit of the Loom), services (NetJets), retailing (Nebraska Furniture Mart, auto dealerships), and wholesale distribution (McLane).
Cash and Stocks: Many investors, though, focus on the company's pile of cash and how much of its stock it's buying back. At the end of Q1, Berkshire (BRK.B) had a total of ~$106.3B in cash and short-term securities, about $40B lower than the end of Q4 2021. Some $3.2B of its cash went to stock buybacks.
In addition, the company also has a massive portfolio of investments in other companies, with its top four holdings in Apple (AAPL), American Express (AXP), Bank of America (BAC) and Chevron (CVX), representing ~66% of its equity holdings. Occidental Petroleum (OXY) may be on that list this quarter as Berkshire (BRK.B) has amassed a 19.4% stake in the fossil fuel producer and refiner, valued at about $10.8B at the end of Q2.
Volatile markets likely hurt its insurance investment performance as well as the value of its equity portfolio. Still, the petroleum company holdings will help to blunt some of the declines as seen in the chart showing the performance of its top holdings during Q2.

'Capricious Price': Buffett, though, isn't worried by one quarter's performance for its stock portfolio. He is, first and foremost, a long-term investor. In 2019, he told investors it's time to abandon book value as a main focus. Market prices can be "extremely capricious," he wrote in his annual letter to shareholders. "Over time, however, Berkshire's stock price will provide the best measure of business performance," he said.
In the past 10 year, Berkshire Hathaway (BRK.B) B shares have climbed 243%, outpacing the S&P 500's 193% increase.
The prevailing economic forces during Q2 will no doubt be seen in its divisions' results. The company's insurance operations will provide a view into how much COVID-19 has or hasn't receded. In manufacturing, supply chain disruptions are sure to impact operations. And hiring challenges and inflation will hang over the entire company.
So Berkshire's (BRK.B) Q2 results may have just as much to say about the U.S. economy as they do about the company itself.
SA contributor Yiannis Zourmpanos calls Berkshire Hathaway (BRK.B) a stock to navigate the recession