Amgen data for new cancer agent shows liver toxicity with immunotherapies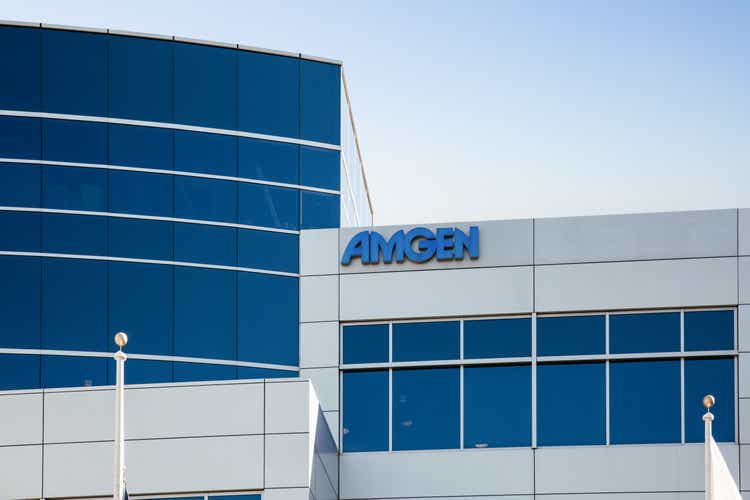 Amgen's (NASDAQ:AMGN) newly approved cancer therapy Lumakras has led to a higher incidence of severe liver side effects in combination with immunotherapies, according to Phase 1 data disclosed by the company on Sunday ahead of a presentation at a medical event.
Lumakras became the first approved targeted therapy for tumors with any KRAS mutation in 2021 when the FDA cleared it for adults with non-small cell lung cancer.
The 2022 World Conference on Lung Cancer, being held in Vienna, Austria, would include new combination study results involving Lumakras and pembrolizumab or atezolizumab, immunotherapies developed by Merck (MRK) and Roche (OTCQX:RHHBY) (OTCQX:RHHBF), respectively.
The Phase 1b CodeBreaK 100/101 dose exploration study tested 58 patients with KRAS G12C-mutated non-small cell lung cancer (NSCLC) who had never received a KRAS inhibitor such as Lumakras, also known as sotorasib.
In response to drug combo, 29% (17/58) of patients showed an objective response rate, indicating a decrease in tumor size. Out of 17 patients with confirmed responses, the tumors of five patients continued to respond to therapy with more than ten months of duration of response, while eight were ongoing responders.
Notably, compared to previous data for Lumakras monotherapy, Lumakras with immunotherapy led to a higher incidence of grade 3-4 treatment-related adverse events (TRAEs), mainly increases in liver enzymes, Amgen (AMGN) said.
However, the company noted that the occurrence of discontinuations and grade 3-4 TRAEs were lower for patients who had received Lumakras before starting combination therapy, and nearly all grade 3-4 TRAEs were resolved.
"The fact that we saw a median duration of response of 17.9 months and lower rates of adverse events in patients treated with sotorasib as a lead-in to the combination regimen informs our approach for ongoing investigation in the first-line setting," remarked Dr. Bob T. Li, an oncologist and a cancer investigator at the Memorial Sloan Kettering Cancer Center.
Additionally, Amgen (AMGN) shared data from a Phase 1 study designed to evaluate Lumakras in combination with RMC-4630, a small molecule protein tyrosine phosphatase 2 (SHP2) inhibitor.
Data from that study indicated that out of 11 patients with KRAS G12C-mutated NSCLC, three patients (27%) showed a decline in tumor size, while seven achieved disease control.
However, TRAEs were found in 63% of patients, with the commonest adverse events being edema (30%) and diarrhea (26%). There were no grade 4 and higher TRAEs, and the incidence of grade 3 TRAEs stood at 22%.
Last week, Amgen (AMGN) exceeded Street forecasts for Lumakras with ~$77M revenue for 2Q 2022, indicating ~24% growth from the previous quarter.