Blue Apron misses estimates as costs increase, raises $30M in new funds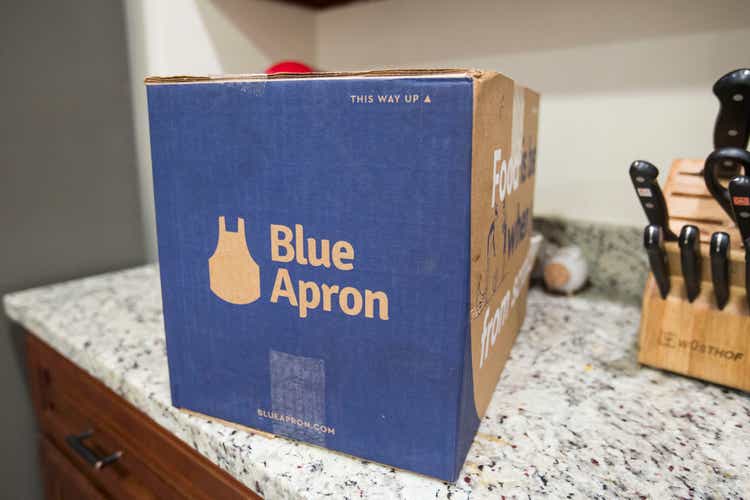 Blue Apron Holdings (NYSE:APRN) missed estimates with its Q2 earnings report and reset its guidance as inflation pressures factored into a bigger loss than a year ago.
The company said average revenue per customer increased to $328 from $321 in Q2 from Q1 and decreased slightly from $330 for the same period a year ago. Average order value was up 7.1% Y/Y and 6.6% sequentially to $67.14. That level marked a record high for APRN, primarily due to a pricing increase introduced in Q2.
Cost of goods sold as a percentage of revenue increased 270 basis points to 65.32 from 62.6% a year ago. The increase was primarily driven by higher food and product packaging costs due to new and enhanced product offerings and price increases due to inflationary pressure, as well as an increase in shipping and fulfillment packaging costs driven by carrier rate increases and fuel surcharges.
Looking ahead, Blue Apron (APRN) adjusted its revenue target for the year to +7% to +13% growth as a result of persistent inflationary pressures which are impacting consumer demand. APRN plans to focus on driving to profitability. APRN remains committed to its longer term targets provided at its Investor Day earlier in the year of achieving adjusted EBITDA profitability in FY23 and positive operating cash flow in FY24.
Blue Apron (APRN) also announced that it entered into a pact with RJB for an extra $30M in funding through a private placement of shares. The company plans to use the funds to supports its long-term growth.
Shares of APRN rose 0.34% premarket to $2.99 vs. the 52-week trading range of $2.28 to $12.76.