BioNTech stock falls on Q2 miss as vaccine sales slump; eyes uptick in Q4 with Omicron shot delivery in October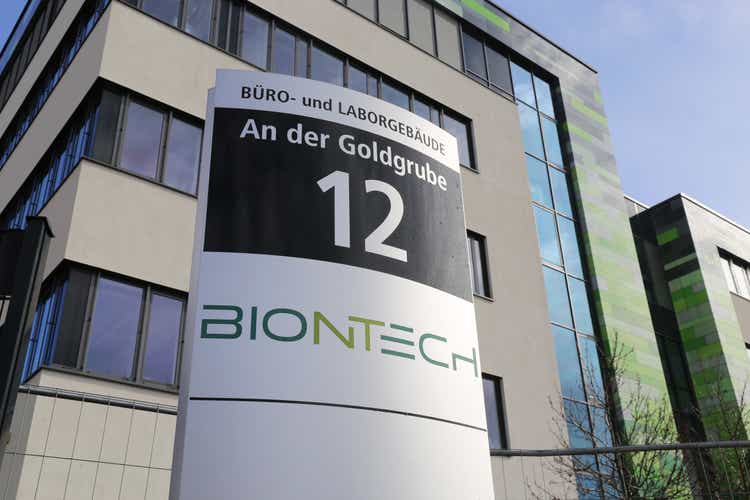 BioNTech (NASDAQ:BNTX) stock fell ~5% premarket Aug. 8 after the company's Q2 results missed analysts estimates, however the company reaffirmed its COVID-19 vaccine revenues outlook for 2022.
Q2 EPS slumped -40.11% Y/Y to €6.45, while revenue fell -39.79% Y/Y to ~€3.2B.
Revenue from direct COVID-19 vaccine sales to customers in BioNTech's territory, Germany and Turkey, declined to €557M, compared to ~€1.04B in Q1 2021. Meanwhile, sales from products manufactured by BioNTech for its collaboration partners increased to €608.3M, compared to €138.1M in the prior year period.
The German company said that due to the dynamic nature of the pandemic there was a re-phasing of orders causing fluctuations in quarterly revenues, which is expected to remain over the rest of the year with an uptake in demand in key markets in Q4 related to the Omicron-adapted bivalent vaccine, if approved.
In addition, BioNTech and Pfizer (PFE) plan to start a trial in August for an Omicron BA.4/5-adapted bivalent vaccine.
"With our initiatives around variant-adapted COVID-19 vaccine candidates, we expect an uptake in demand in our key markets in the fourth quarter of 2022, subject to regulatory approval," said BioNTech CFO Jens Holstein.
BioNTech noted it was preparing for potential launch of two variant-adapted bivalent COVID-19 vaccines containing the original strain and Omicron BA.1 or BA.4/5 spike protein and expects to start delivering the vaccines as early as October, subject to regulatory approvals.
BioNTech reiterated its COVID-19 vaccine revenues outlook for the full year 2022 and expects it between €13B - €17B. Pfizer had said it expects Comirnaty revenues of ~$32B in FY22.
The companies have signed orders for ~2.5B doses for 2022, and, in the first half of the year, invoiced ~1.2B doses, BioNTech said in its Aug. 8 earnings release.
Net Profit declined to €1,67B, compared to €2,.79B in Q2 2021. Research and development expenses were €399.6M, compared to €201.1M in Q2 2021.
As of June 30, the company's cash and cash equivalents were €9.33B.
In June 2022, the Company's shareholders approved a proposed special cash dividend of €2 per ordinary share (including those held in the form of ADSs), which led to a total payment of €484.3M.
Buyback: During Q2, BioNTech bought back ~2.08M American Depositary Shares (ADSs) at an average price of $145.65 apiece for $302.7M (€286.9M).
BioNTech's said its commercial mRNA manufacturing at its facilities is not expected to be impacted by the current natural gas shortage but noted that its cannot predict with certainty the impact of a continuing or more severe natural gas shortage.
Outlook:
BioNTech also reaffirmed outlook for the following: Expects R&D expenses to between €1.4B and €1.5B, while capital expenditure is expected in the range of €450M to €550M.
BNTX -4.54% to $174.79 premarket Aug. 8