Bitcoin, ether gain, as markets shake off concerns over jobs report, rate hikes
Aug. 08, 2022 7:54 AM ET
Bitcoin USD (BTC-USD), ETH-USD, BNB-USD, DOT-USD, AVAX-USD, SOL-USD
MSTR, RIOT, MARA, COIN, SI
By:

Liz Kiesche,

SA News Editor
2 Comments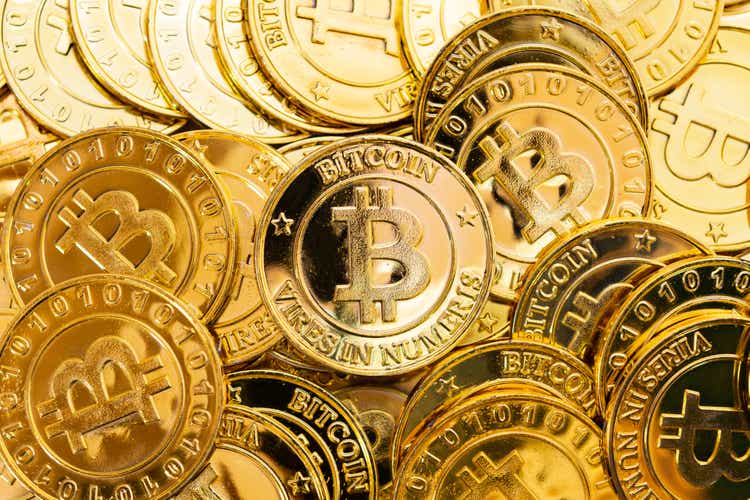 Bitcoin (BTC-USD) and ethereum (ETH-USD) are making solid gains Monday morning as investors continue to return to risk-on assets. Bitcoin, up 4.8% over the last 24 hours, has reclaimed $24K and ether has gained 5.8%, reaching $1.7iK.
The move up comes as markets shook off concerns raised by Friday's unexpectedly strong July jobs report. Nasdaq futures have risen 0.6% at ~7:37 AM, S&P futures up 0.4%, and Dow future +0.4%.
Over the past month, bitcoin (BTC-USD) has increased 7.2% and ether (ETH-USD) has surged 37%. In the past eight weeks, bitcoin has jumped 37%, pointed out GlobalBlock analyst Marcus Sotiriou. "It seems clear that the first four rate hikes and a technical recession were priced into risk-on assets, as there was huge and persistent sell pressure in anticipation of the events/news," he said.
In addition, there are indications that the SEC may approve two more bitcoin futures ETFs, he added, noting that firms usually update proposals when an ETF is set to launch. "We see that there is an Ark Invest filing for a bitcoin futures ETF with an assigned ticker, and Valkyrie have updated its own ETF with a ticker. That gives us an indication that another Bitcoin Futures ETF may be approved soon."
Other cryptocurrencies were also faring well Monday morning. Binance Coin (BNB-USD) was up 4.9%, cardano (ADA-USD) +5.5%, solana (SOL-USD) +7.5%, Polkadot (DOT-USD) +10%, Avalanche (AVAX-USD) +13%.
In Monday premarket trading, Coinbase Global (COIN) was up 6.1%, MicroStrategy (MSTR) +6.7%, Marathon Digital (MARA) +8.8%, Riot Blockchain (RIOT) +6.8%, Silvergate Capital (SI) +3.1%, and Hut 8 Mining +5.5%
Previously (Aug. 6), Senate bill seeking CFTC oversight of bitcoin, ether could 'free up billions' of dollars