Take-Two dips as videogame publisher's outlook falls short of expectations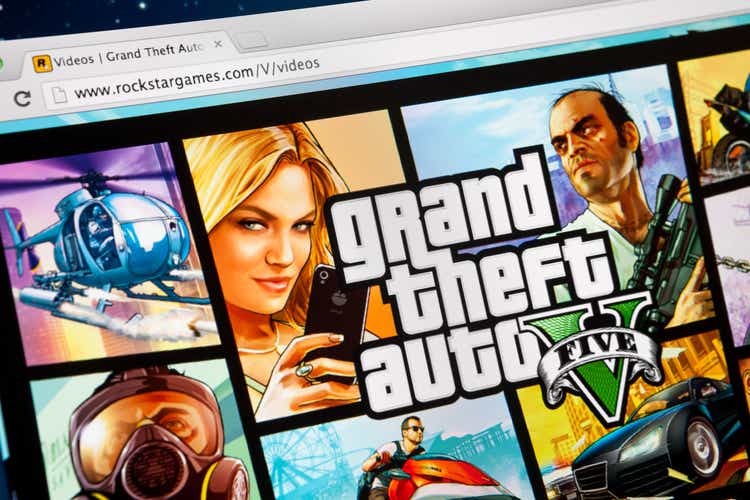 Take-Two Interactive Software (NASDAQ:TTWO) shares fell as much as 6% in after-hours trading Monday following the company's fiscal first-quarter earnings, where bookings fell short and the company guided to the low side on the metric for the current quarter and the full year.
Take-Two (TTWO) said that for its current quarter, it's forecasting bookings of $1.5B to $1.55B, which is below consensus estimates for $1.73B. The company also said it expects to report a loss of between 86 cents and 96 cents a share, on revenue in a range of $1.37B to $1.42B for the quarter.
For its 2023 fiscal year, Take-Two (TTWO) is forecasting bookings of $5.8B to $5.9B, while analysts had forecast $6.4B in bookings. The company also expects to report a full-year net loss of $2.50 to $2.75 a share, on revenue of $5.73B to $5.83B.
That disappointing outlook came along with Take-Two (TTWO) reporting fiscal first-quarter net bookings that grew 41% to $1.0B, though Wall Street analysts had such booking to grow by 56%, to $1.12B.
The company's results incorporated Zynga's results for 39 days of the quarter, after it wrapped up that acquisition on May 23.
It's a "strong start," said Take-Two (TTWO) Chief Executive Strauss Zelnick. "Our operating results were above our expectations, as we launched engaging new games and content updates, all while navigating various macroeconomic and geopolitical factors."
The company swung to a net loss of $104M compared to a year-ago gain of $152.3M; the loss benefited from reversing $47.7M tied to forfeitures of stock awards. Cash from operations on a net basis for the quarter was $100.8M, while the company also reported ans adjusted unrestricted operating cash flow loss of $14.4M
Take-Two (TTWO) also said will start reporting EBITDA for the first time, and it's expecting full-year EBITDA of $499M to $548M.
Last week, research firm NPD Group released data that said videogame sales in the second quarter this year fell by 13% from the same period a year ago.