Are markets pricing in China's new status quo for Taiwan?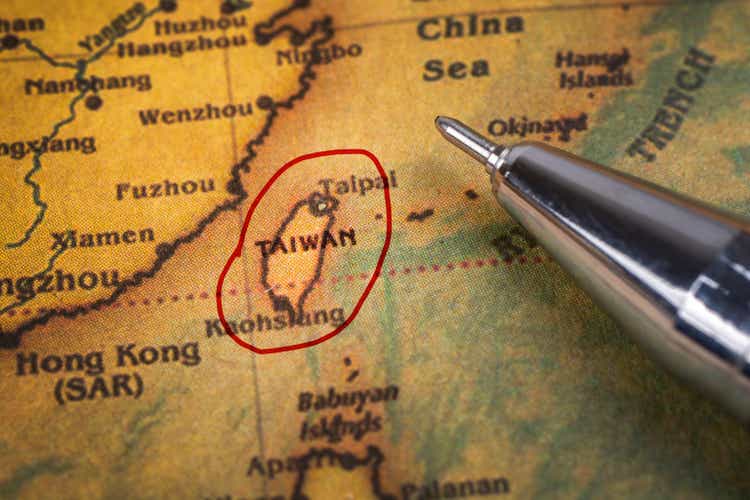 In response to Nancy Pelosi's visit to the island, China was scheduled to wrap up military exercises surrounding Taiwan on Sunday. However, China's Eastern Theater Command announced Monday that it would conduct fresh drills focused on anti-submarine operations and air-to-sea strikes, suggesting that Beijing will keep up the pressure on Taiwanese defenses. Meanwhile, President Xi Jinping has laid out a template for operating ever closer to "space near Taiwan Island" after warning that its military will "never sit idly by" and "whoever plays with fire will get burnt."
Thought bubble: A lot has changed in recent decades with a more powerful Chinese military and a new zeal to "reunite" Taiwan with the mainland. Beijing has never ruled out taking Taiwan by force and it subsequently severed some lines of communication with the U.S. - including military and climate change - following Pelosi's tour of the region. China may also begin to restrict Taiwan's freedom to operate off its shores in the same way that it squeezed the island's ability to participate in international institutions since President Tsai Ing-wen's election in 2016.
"I'm not worried, but I'm concerned they're moving as much as they are," President Biden told reporters in Delaware, referring to China. "But I don't think they're going to do anything more." In the meantime, the U.S. is keeping aircraft carrier USS Ronald Reagan and its strike group "on station in the general area to monitor the situation."
Will the tensions impact markets? An additional risk premium could be priced in for stocks related to China, Taiwan and Japan, especially after Tokyo accused Beijing of firing ballistic missiles into its exclusive economic zone. A decoupling from China would also be a lot harder than what was seen following the invasion of Ukraine, if the U.S. decides to go through with similar sanctions on the world's second largest economy. Any crisis could quickly escalate, disrupting air traffic and shipping, as well as prompting economic warfare from tariffs and expropriations to boycotts and closures.
Related ETFs: EWT, FLTW, EWJ, FXI, KWEB, CQQQ, MCHI, ASHR, YINN, TDF, CHIQ, GXC, EWH, KBA, YANG, CXSE, CAF, CWEB, PGJ, KURE, CHIX, CYB