Novavax drags rivals lower as falling vaccine demand prompts guidance cut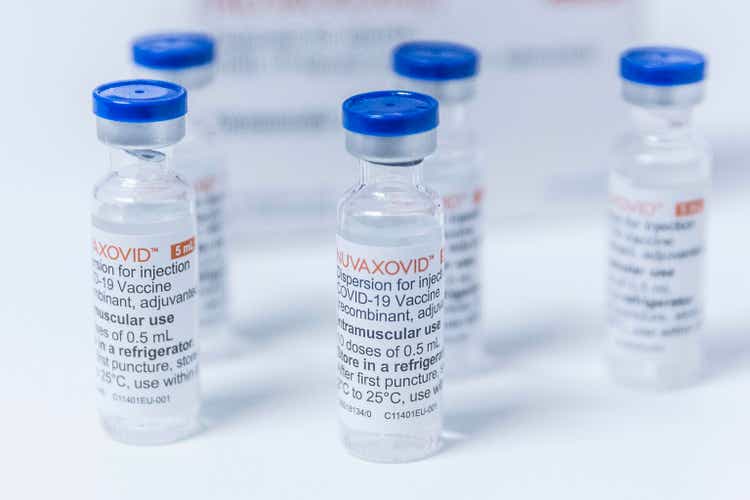 COVID-19 vaccine developers traded lower in the pre-market Tuesday after Novavax (NASDAQ:NVAX), the latest developer to win U.S. authorization for its shot, posted a huge revenue miss for Q2 2022 and lowered full-year guidance citing a decline in demand and supply glut.
"In the case of the U.S., I believe we were late to the market, and U.S. vaccination was driven by what was available and shown to work, mRNA vaccines," Chief Executive Stan Erck remarked at the earnings call.
A short while ago, Novavax (NVAX) had halved its revenue guidance to $2.0B – $2.3B from the prior outlook of $4B - $5B despite offering an alternative option to the U.S. immunization drive when the regulators cleared its protein-based vaccine last month.
Novavax (NVAX) has extended its post-earnings losses with a drop of ~31% in the pre-market. Even the dominant mRNA-based vaccine players in the U.S. market, such as Moderna (MRNA) and BioNTech (BNTX), are also trading lower, with declines of ~3% and ~2%, respectively.
Meanwhile, Pfizer (PFE), which partnered with BioNTech (BNTX) to launch the first FDA-authorized vaccine, is trading flat.
On Wall Street, Jefferies and Cowen, with Buy and Outperform ratings on Novavax (NVAX), have trimmed their price targets on the stock to $145 from $190 and $110 from $150, respectively. Maryland-based vaccine maker has an average price target of $147.50 per share on among analysts.