Intel seen as biggest beneficiary of CHIPS Act, but not a 'silver bullet,' BofA warns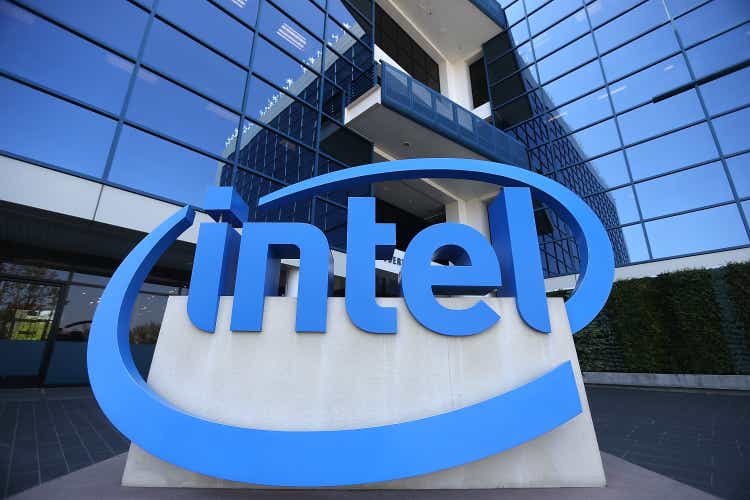 Intel (NASDAQ:INTC) is seen as the biggest beneficiary of the U.S. CHIPS and Science Act according to Bank of America, but the firm warned it is not a "silver bullet" for the U.S.-based semiconductor giant, with Taiwan likely still the epicenter of the semiconductor world.
Analyst Vivek Arya noted that the $280B legislation -- which includes roughly $52B in subsidies to boost domestic chip production and an investment tax credit for chip plants estimated to be worth $24B over the next decade -- has three goals: incentivize domestic production; reduce reliance on Taiwan for leading edge chips; and help the auto industry, which has been hampered by the chip shortfall.
While the first goal will be met, Arya is "skeptical" that the legislation will make "any meaningful dents in Goal 2 of reducing Taiwan reliance," as Intel (INTC) does not have the technology to produce 5 nm and lower chips. Taiwan Semiconductor (NYSE:TSM) does, but it likely will not share it, given the country's "silicon shield," Arya explained.
Lastly, Arya added that it's hard to see how it helps the auto industry, given that only $2B of the CHIPS Act is allocated towards trailing edge chips, which the auto industry relies on.
"Any meaningful chips act output is unlikely before [2024 or 2025] given time taken for fund allocation, clean room construction and tools deployment," Arya wrote in a note to clients.
President Biden is set to sign the bill into law in a ceremony at the White House at 10 a.m. on Tuesday.
Intel (INTC) could see between $10B and $15B worth of the $52B in assistance over the next 5 years, Arya estimated. The company is also benefiting from the European Union's CHIPS Act, as the company looks to spend an estimated $88B over the next decade in building manufacturing plants on the continent.
Despite this, Intel (INTC) still lags Taiwan Semiconductor (TSM) in manufacturing technology and the company's integrated design and manufacturing model actually "discourages engagement" with its fabless rivals, such as Advanced Micro Devices (NASDAQ:AMD), Nvidia (NVDA), Marvell (MRVL) and Broadcom (AVGO), all of which are Taiwan Semi (TSM) clients.
Apple (NASDAQ:AAPL) is widely believed to be Taiwan Semiconductor's (TSM) largest client, perhaps accounting for as much as 25% of production.
Lastly, Intel's (INTC) manufacturing capabilities are not set up for 40nm nodes, which is where the "majority of auto and industrial capacity constraints are currently," Arya explained.
Nonetheless, the CHIPS Act may help other companies as well, including GlobalFoundries (GFS), Texas Instruments (TXN), ON Semiconductor (ON), Analog Devices (ADI), Microchip (MCHP), Micron Technology (MU), KLA Corp. (KLAC), Applied Materials (AMAT) and Lam Research (LRCX), among others Arya explained.
Last month, several analysts downgraded Intel (INTC) after it delivered what Chief Executive Pat Gelsinger described as a "below standard" quarter.