Consumer price inflation seen easing in July, but pressures still persist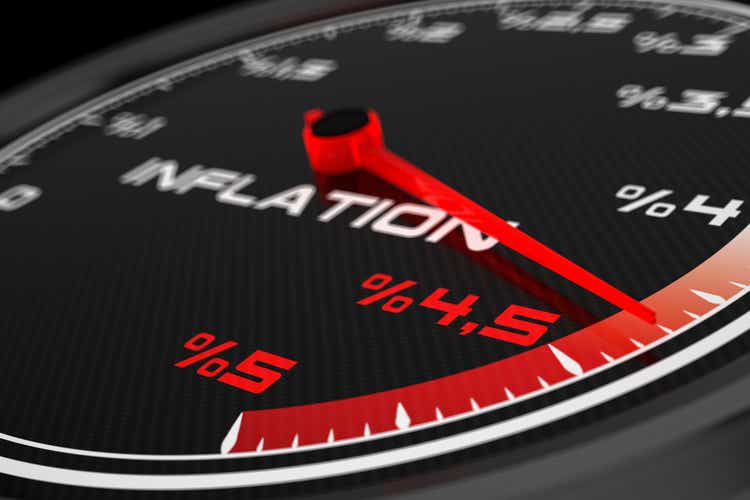 The consumer price index will provide the first look of July's inflation data. Economists expect CPI to rise 8.7% Y/Y, down from the 9.1% clocked in June. Core CPI, which excludes energy and food, is expected to increase 6.1% vs. 5.9% in June.
That means the headline number may have peaked in June. "June was likely the peak in inflation," Jose Torres, senior economist at Interactive Brokers, told Seeking Alpha. "The only way it wasn't is if geopolitical tensions re-intensify and gas and oil prices surge again."
"Commodities have been coming down pretty aggressively. Services are going to be challenging... they're stickier," he said. Torres expects CPI to rise 8.9% in July, higher than consensus, and 0.5% M/M, which exceeds the +0.2% consensus but is down from the 1.3% M/M rate registered in June.
Specifically, he'll be looking at durable goods indexes, especially in new and used cars, services overall, and "how wage gains are being passed on to consumers." In services, he's especially interested in airfares and food away from home.
Not everyone is calling the peak in inflation. Dan Varroney, president and CEO of consulting firm Potomac Core doesn't "expect to see a significant reduction in the CPI." Mostly because the June Producer Price Index ran hot at 11.3%. "Input costs remain really high," he said in an interview with Seeking Alpha. And while gasoline prices have declined, "diesel costs haven't shrunk appreciably," he said. And diesel is an important part of food costs and industry, in overall.
Money supply also isn't pointing to lower inflation, Varroney said. "This economy is just sloshing around in cash," he said. "The Senate just approved legislation that's going to increase that amount of cash and then the CHIPS Act you're probably talking in round numbers about another billion in cash. Until the the M2, the money supply, gets under control, I don't know how inflation abates to any significant degree."
"I think the CPI will come in hotter than expectation. I think the PPI number will come in hotter than expectation," he said.
"If those numbers come in hot again, I think the expectation would be correct if in September we see an increase of 100 basis points, because hiring is way too hot and wages are still up," Varroney said. "They are looking to cool the economy and slow it down."
Rent and housing prices aren't poised to decline, since the supply-demand situation hasn't improved, he added.
What does this mean for equity markets? Interactive Broker's Torres says the "market is poised to drop in value." The market is hoping for the Fed to halt rate hikes later in 2022 with possible cuts in early 2023. "Along with the strong jobs report on Friday, this CPI may shatter the market sentiments," he said.
And perhaps investors are concerned ahead of the CPI print, with all three major U.S. stock averages in the red in Tuesday afternoon trading.
Torres says the equity markets exhibit the characteristics of a bear market rally. The S&P 500 has a "very heavy point of resistance at 4175" that it tested and pulled back from on Monday.
When will the market enter bull territory again? "You'll be able to see the beginning of signs of a new bull market early to mid-2023," Torres said. "Earnings estimates still remain too high, there's more downside to come."
Dear readers: We recognize that politics often intersects with the financial news of the day, so we invite you to click here to join the separate political discussion.
Earlier, Inflation-fighting ETFs jockey into position ahead of July's CPI print