Jumia Technologies stock jumps as CEOs signal losses have peaked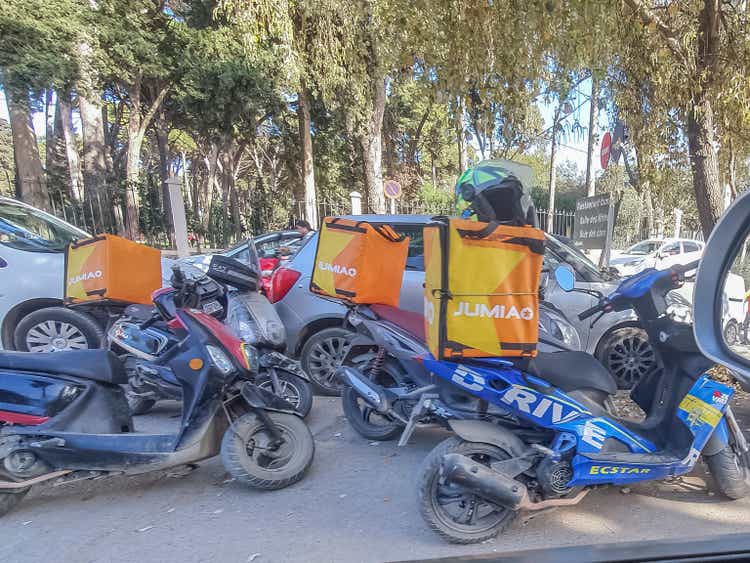 Jumia Technologies (NYSE:JMIA) shares rose sharply on Wednesday after posting better-than-expected sales and signaled profits are within striking distance.
For the second quarter, the Africa-focused eCommerce company posted a 42.5% leap in revenue from the prior year to $57.3M, edging out analyst expectations. Also, overall orders surged 35% and active users rose 25% to 10.3M and 3.4M, respectively.
While operating losses grew to $67.7M in the second quarter, up 31% from the prior year as fuel and wage inflation impacted the bottom line, executives voiced confidence in the path to profitability. Namely, co-CEOs Sacha Poignonnec and Jeremy Hodara indicated the company is seeking to significantly cut costs.
"We believe we are now past the peak of quarterly Adjusted EBITDA losses reached in the fourth quarter of 2021 and intend to redouble our efforts to reach profitability, leveraging our strong business fundamentals," they said in a statement. "We intend to reduce Adjusted EBITDA losses starting from the second half of 2022 with a 12% to 29% decrease year-over-year."
The company indicated it plans to roll out new cost-cutting programs to reduce freight costs and optimize warehouses to reduce the cost of sales that nearly doubled from 2021. Overall capital expenditure apex guidance forecasts were cut from $15M-25M to $10M-15M as the company pursues these cost cutting programs. Amid these initiatives, executives voiced confidence in a turn to profitability in the coming years.
For the full-year, the company anticipates an adjusted EBITDA loss of $200M to $220M, with $87M to $107M expected in the second half of 2022. For the following year, this loss is expected to be lower than 2022, though the magnitude was not projected.
"We are confident our consistent and disciplined execution will help us reach profitability and build an even stronger and more relevant platform," the co-CEOs commented.
Shares rose 10.4% in premarket trading on Wednesday.
Read more on the details of the report.