Citi reiterates buy on Micron even after weak forecast, citing 'classic signs' of a bottom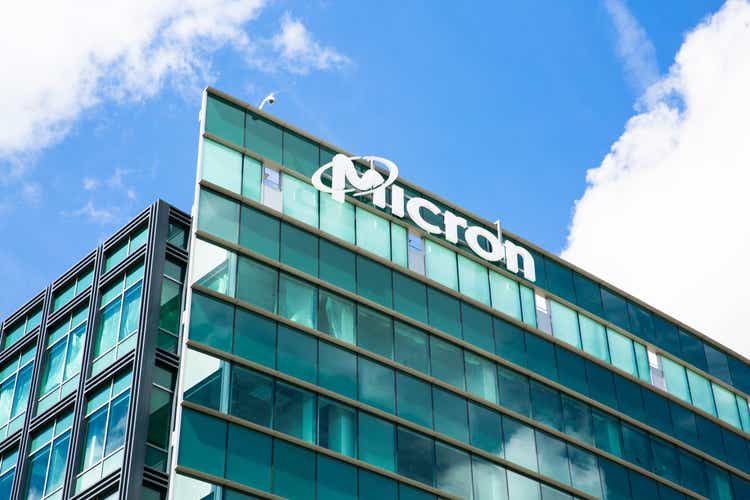 Micron Technology (NASDAQ:MU) may have issued a weak forecast for the fourth-quarter due to macroeconomic factors and supply chain constraints, but investment firm Citi said the company is showing the "classic signs" of a bottom.
Analyst Christopher Danely cut his estimates on Micron (MU) and lowered the price target to $75 from $80, but he reiterated his buy rating, noting Micron (MU) has shown the three signs of a bottom: it lowered its capex spending; it is trading near trough valuation; and it has most of its downside already in consensus estimates.
"[Fiscal 2023] EPS estimate is down roughly 50% since last quarter," Danely wrote in a note to clients, adding that after yesterday's announcement, "most of the downside to Consensus estimates will be out."
Micron (MU) shares were fractionally higher to $59.36 in premarket trading.
Late on Tuesday, Bloomberg reported that Micron (MU) was going to slow hiring, following the lead of other semiconductors such as Intel (INTC) and Nvidia (NVDA), but that it would not lay off employees.
Danely lowered his 2022 revenue and earnings per share estimates to $30.6B and $7.85, down from $31.3B and $8.07. He also cut his 2023 revenue and earnings per share estimates to $23.5B and $3.94, down from $31B and $7.27.
The analyst also noted that Micron (MU) mentioned there was "some softness" in the automotive and industrial and industrial end markets, which would be the first signs of weakness in both areas.
On Tuesday, investment firm Raymond James downgraded Micron (MU) after the weak forecast, citing the fact that "near-term news is likely to work against shares" going into the next fiscal year.