Consumer prices unexpectedly flat in July M/M as Fed policy takes hold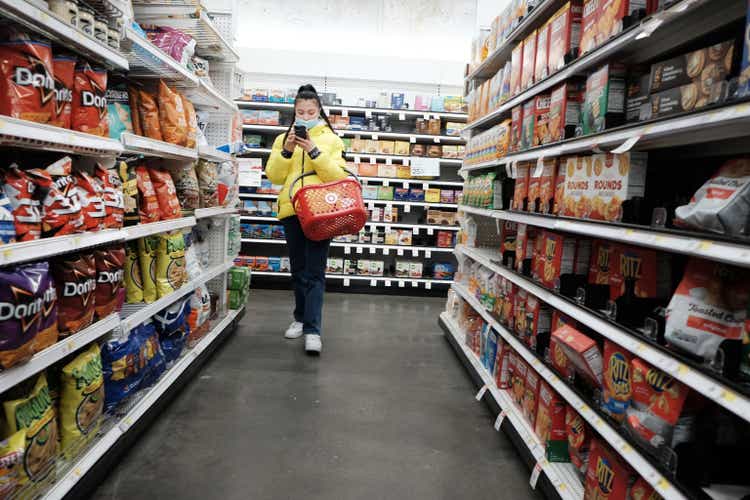 July Consumer Price Index: +0.0% vs. +0.2% consensus and +1.3% prior.
In both the headline number and the core figure (which excludes energy and food), July's print came in below consensus estimates, providing "evidence that Fed policy is starting to impact the monthly inflation readings," said RSM US Chief Economist Joseph Brusuelas via tweet.
That has traders reducing bets for a 75-basis point rate increase in September. The CME FedWatch tool puts a 66.5% probability of a 50-bp hike at the next Fed meeting and 33.5% chance of 75-bp increase. On Tuesday, the probabilities were 32% for a 50-bp hike and 68% for 75 bp.
With the lower than expected inflation across all measures, stock futures are in the green. Nasdaq futures were up 2.4%, S&P futures +1.8%, and Dow futures +1.3% at about 8:57 AM ET. The 10-year Treasury yield has dropped 5 bp to 2.72%.
A 7.7% M/M decline in the gasoline index offset increases in the food and shelter indexes. The food index rose 1.1% from June, with the food at home index climbing 1.3% and food away from home rising 0.7%.
Y/Y, CPI +8.5% vs. +8.7% consensus and +9.1% prior.
Core CPI: +0.3% vs. +0.5% consensus and +0.7% prior.
Prices for shelter, medical care, motor vehicle insurance, household furnishings and operations, new vehicles and recreation all rose during the month. Those that declined included airline fares, used cars and trucks, communication and apparel.
Y/Y, core CPI: +5.9% vs. +6.1% consensus and 5.9% prior.
"Used car & truck boom is fading quickly... price +6.6% Y/Y, slowest gain since August 2020," said Charles Schwab Chief Investment Strategist Liz Ann Sonders. But rent increases aren't showing signs of slowing. Owners' equivalent rent portion of CPI, rose 5.8% Y/Y, is the fastest gain since September 1990, she added.
Bankrate Chief Financial Analyst Greg McBride said that "One in a row is not a streak — but it is a start." And while gasoline prices are down, it's not going to end inflation.
"Shelter costs are still rising at a knee-buckling pace, and accounted for 40% of the increase in the core CPI," said Bankrate Chief Financial Analyst Greg McBride. "Change in rent prices, in particular, tend to lag increases in home prices so we can expect to see continued moves higher for months to come in what is the biggest component of the inflation index."
On Tuesday, Q2 productivity fell 4.6% from the prior quarter, while labor costs increased 10.8%