Sonos shares slump on slashed revenue forecast, CFO exit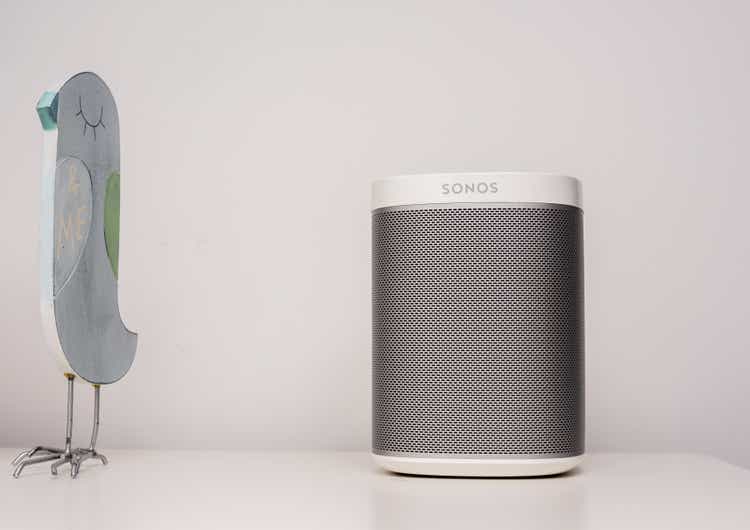 Sonos Inc. (NASDAQ:SONO) earnings struck a sour note on Wednesday, sending shares spiraling downward in after hours trading.
The Santa Barbara-based audio product manufacturer missed on top and bottom lines for its fiscal third quarter, notching a surprise decline in revenue from 2021. The company also noted that free cash flow was negative in the quarter.
"We have seen the macroeconomic backdrop become significantly more challenging for us starting in June as the dollar's appreciation and high inflation have adversely affected consumer sentiment globally, particularly in the categories in which we play," CEO Patrick Spence commented. "As a result, revenue missed our expectations for Q3 and we are adjusting our FY22 outlook accordingly."
The company now expects full-year revenue to reach a range of $1.73B to $1.76B versus a prior forecast of $1.95B to $2B. Analysts had anticipated $1.98B. Gross margin forecasts were also narrowed to a range of 45.7% to 45.9% from a prior forecast of 45.5% to 46.0%.
"We expect to weather the current environment while operating from a position of strength: we are profitable, we are debt free, and we have a huge market opportunity," Spence said, courting some optimism. "We are tightly focused on expenses while prudently and deliberately investing in a number of products and initiatives in new and existing categories that we believe customers will love and will drive our long-term success."
The company also extended the timeline to achieve previously issued targets of $2.5B in revenue, 45-47% gross margins, and 15-18% Adjusted EBITDA margins into the 2024 fiscal year.
Shares fell 19.41% shortly after the print crossed newswires.
Elsewhere, the company announced that CFO Brittany Bagley would be stepping down to pursue another opportunity. Current Chief Legal Officer Eddie Lazarus will succeed Bagley as interim CFO effective September 1.
Read more on the details of the results.