U.S. monkeypox cases exceed 10,000
Aug. 11, 2022 6:47 AM ET
SIGA Technologies, Inc. (SIGA)
RHHBY, EBS, GOVX, APDN, BVNKF, RHHBF, TNXP, CMRX, BVNRY, CODX, VRAX
By:

Dulan Lokuwithana,

SA News Editor
51 Comments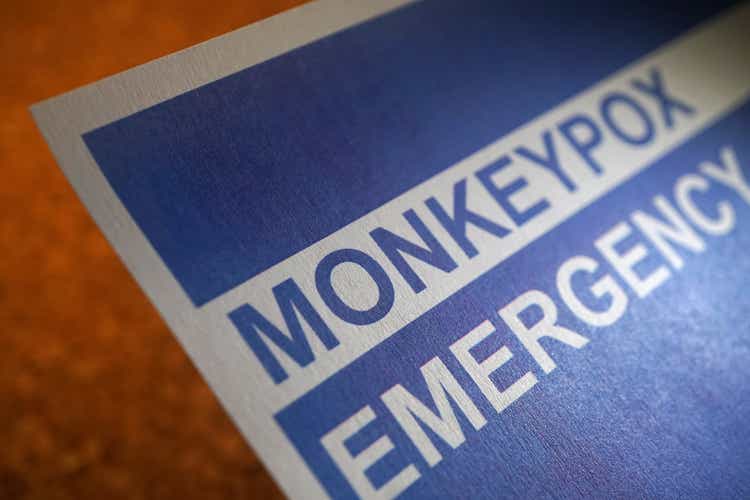 According to the latest data compiled by the Centers for Disease Control and Prevention (CDC), the recent monkeypox outbreak has led to 10,392 cases as of Wednesday.
The country has added 900 cases on Wednesday

alone per the Our World in Data project, a public online data hub based at the University of Oxford.

The U.S. has averaged about 537 cases over the past seven days compared to nearly 979 globally, where the cumulative case count has reached 33,409, including 12 deaths.
In the latest outbreak, monkeypox, a rare viral disease endemic in Africa, has caused infections mostly among men who have sex with men.
The Biden administration declared the current monkeypox outbreak a public health emergency last week in a bid to free up emergency funds and raise awareness.
Vaccine developers targeting monkeypox: Bavarian Nordic (OTCPK:BVNKF) (OTCPK:BVNRY), Emergent BioSolutions (EBS), Chimerix (CMRX)
Monkeypox test makers: Co-Diagnostics (CODX), Roche (OTCQX:RHHBY) (OTCQX:RHHBF), Applied DNA Sciences (APDN), Virax Biolabs Group (VRAX)
Developers of therapeutics for monkeypox: GeoVax Labs (GOVX), SIGA Technologies (NASDAQ:SIGA), and Tonix Pharmaceuticals (TNXP)
The World Health Organization declared monkeypox a global health emergency in late July.