Catalyst watch: Tim Hortons China trading debut, FuboTV event and Foot Locker earnings
Aug. 12, 2022 3:00 PM ET
SPDR S&P 500 Trust ETF (SPY)
JNPR, AXP, BAC, JPM, C, TPR, COF, SBUX, KSS, FL, UHAL, BFH, NTDOY, TD, CTIC, FHN, WBD, TLF, DFS, SBFM, GMVHF, AXDX, BLUE, ISEE, VIVK, NCBDY, SYF, NVTA, PDYPY, PAVM, YUMC, FUV, SAIL, ENSC, HYRE, BNGO, FUBO, TRVI, SWTX, LKNCY, UPST, THCH, ASTS, AKLI, FXLV, LVLU
By:

Clark Schultz,

SA News Editor
21 Comments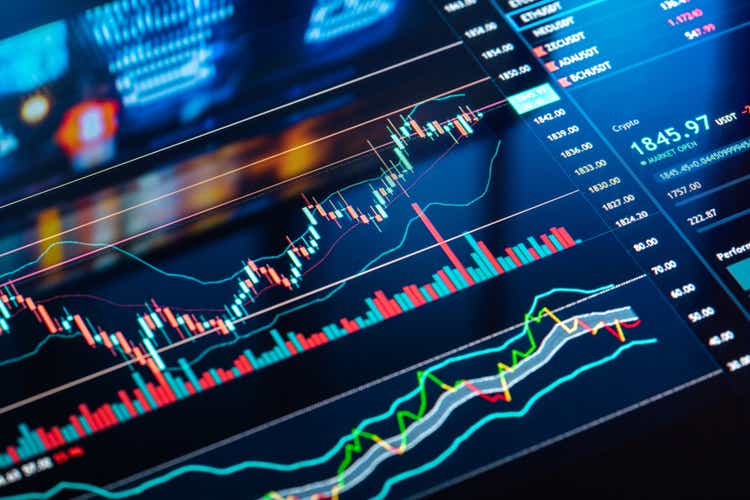 Welcome to Seeking Alpha's Catalyst Watch - a breakdown of some of next week's actionable events that stand out. Check out Saturday morning's regular Stocks to Watch article for a full list of events planned for the week or the Seeking Alpha earnings calendar for companies due to report.
Monday - August 15
Volatility watch - Options trading volume has moved higher on IVERIC bio (ISEE) and Invitae Corporation (NVTA). Shorts have taken large positions on SpringWorks Therapeutics (SWTX) and Upstart Holdings (UPST). Social media interest has picked up on AST SpaceMobile (ASTS) and Bionano Genomics (BNGO) after big rallies for both stocks.
All week - The conference schedule includes the Needham Med Tech & Diagnostics 1x1 Conference, Citi Midstream and Energy Infrastructure Conference, Deutsche Bank 2022 Transportation Conference, H.C. Wainwright 2nd Annual Ophthalmology Conference, and Sidoti August Micro-Cap Virtual Conference.
All day - Bank credit card metric reports will be closely watched for signs that consumers are buckling to financial pressure. American Express (AXP), Bank of America (BAC), Citigroup (C), Capital One Financial (COF), Discover Financial (DFS), JPMorgan (JPM), Bread Financial (BFH), and Synchrony Financial (SYF) are all due to update on credit card net charge-offs and delinquency rates for July.
All day - The IPO lockup periods expire on Sunshine Biopharma (SBFM) and Vivakor (VIVK). Both stocks are down more than 60% from their IPO pricing level.
Tuesday - August 16
Wednesday - August 17
All day - Tandy Leather Factory (TLF) will host an investor presentation and update on longer-term strategies.
All day - It is the expiration day for WTI oil futures, which has led to extra volatility in the past.
8:30 a.m. The retail sales report for July will drop. Bank of America expects core retail sales will come in well ahead of the consensus mark of 0.3% month-over-month, while the headline number is forecast to show just a 0.1% gain.
11:00 a.m. Ensysce Biosciences (ENSC) will hold a corporate update conference call to provide an update and review the recently discussed results from the BE study of PF614. Shares of ENSC have rallied in the past following new PF614 developments.
2:00 p.m. The Federal Reserve will release the minutes of the last meeting of the FOMC. The minutes are expected to show strong consensus from members on rapid rate hikes aimed at reducing inflation. Economists will be looking for nuances around the willingness of FOMC members to accept some softening in labor market conditions to support a return to price stability.
Thursday - August 18
All day - Shareholders with Silver Crest Acquisition Corporation (SLCR) meet to vote on the SPAC deal to take Tim Horton's China public. At least two-thirds of the stockholders must vote in favor of the merger in order for the proposal to pass. Tim Hortons China is aiming to open nearly 3,000 stores in China over five years in what has become an increasingly crowded market with Starbucks (SBUX), Luckin Coffee (OTCPK:LKNCY), Yum China (YUMC), and upstart Manner all competing.
All day - Shareholders with Social Capital Suvretta Holdings Corp. I (DNAA) will meet to vote on the deal to take digital therapy firm Akili public in a SPAC deal. The deal is expected to provide up to $412M in gross cash proceeds and includes a fully committed PIPE of $162M led by $100M from investor Chamath Palihapitiya's Social Capital.
Premarket - Stocks due to report earnings with double-digit share price moves implied by options trading include Kohl's (KSS) and Tapestry (TPR).
9:00 a.m. The OCC and Federal Reserve Board will hold a joint public meeting on the proposed merger between Toronto-Dominion Bank (TD) and First Horizon Corporation (FHN).
1:20 p.m. Federal Reserve Bank of Kansas City President Esther George will give a talk on the economic outlook.
2:00 p.m. AMERCO (UHAL) will hold a virtual analyst and investor meeting.
Friday - August 19
All day - Foot Locker (FL) will report earnings with options implying a share price swing of 12%. Foot Locker rallied 4% after its last earnings report.
All day - The FDA action date arrives for bluebird bio's (BLUE) betibeglogene autotemcel for ß-thalassemia. Shares of BLUE have been volatile in the past around developments with beti-cel.
All day - The report from NPD on videogame sales for July is expected to be released. Software, hardware, and accessories sales are all running below the pace from 2021. For the first half of the year, the five best-selling videogames were BANDAI NAMCO Holdings' (OTCPK:NCBDY) Elden Ring (PC/Steam, PS4/PS5/Xbox One/Xbox Series X), Warner Bros.' (WBD) LEGO Star Wars: The Skywalker Saga (PC/Steam, Xbox One), Nintendo's (OTCPK:NTDOY) Pokemon Legends: Arceus (Nintendo Switch), Horizon Forbidden West (PS5), and MLB The Show 22 (Xbox One/Series X, PS4, Nintendo Switch, PS5).