Walmart Q2 earnings preview: All eyes on guidance amid inflationary pressures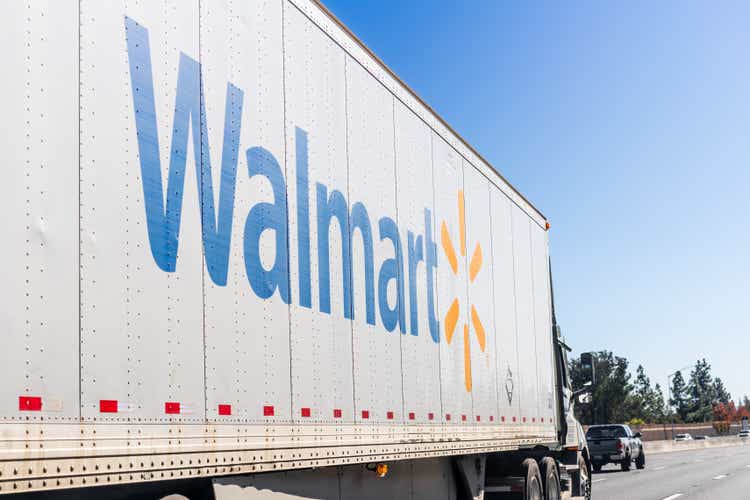 Walmart (NYSE:WMT) is scheduled to announce Q2 earnings results on Tuesday, August 16th, before market open.
This will mark its first earnings since bloated inventory levels reflected in its first quarter report sent shares spiraling in May. Additionally, in the weeks ahead of the report, the Arkansas-based retail behemoth warned profits are due to fall for the second half of 2022 amid inflationary impacts.
Walmart (WMT) said its operating margin was now expected to be about 4.2% for Q2, and comparable sales for Walmart U.S., excluding fuel, are expected to be about 6%. Consolidated net sales growth for Q2 are estimated at 7.5% while adj. EPS for Q2 is expected to decline around 8 to 9%.
The current consensus is an EPS of $1.60 (-10.1% Y/Y) and revenue of $149.96B (+6.4% Y/Y). Over the past three months, analysts have made 27 downward revisions to their EPS estimates of Walmart, while revenue estimates have seen 16 upward revisions and 1 downward.
Walmart's shares are down -8.20% YTD. Shares of the retailer and its peers have started to make a recovery since dropping off in May, but Morgan Stanley has warned that this recovery may be short-lived, with bad news likely to continue flowing into H2 2022.

The retailer was still was cited as preferable to Target (TGT) ahead of earnings given its better mix of non-discretionary categories and greater grocery market share, but Morgan Stanley analyst Simeon Gutman sees more negative guidance revisions ahead for the sector in general during earnings week.
Gutman also sees Walmart's inventory and margin issues as transitory. The company is likely to complete its inventory clearing actions by the close of the year.
Walmart has been among several retailers cutting staff in recent weeks to trim costs, including Best Buy (BBY), 7-11-parent Seven and I Holdings (OTCPK:SVNDY) and footwear retailers Rocky Brands (RCKY) and Allbirds (BIRD).
Gutman expects grocery, auto parts, and pet categories to show notable growth and the Q2 report to see greater penetration in higher income households.
Over the last 2 years, Walmart has beaten EPS estimates 75% of the time and has beaten revenue estimates 100% of the time.