Cisco set for results amid some cautious optimism on Wall Street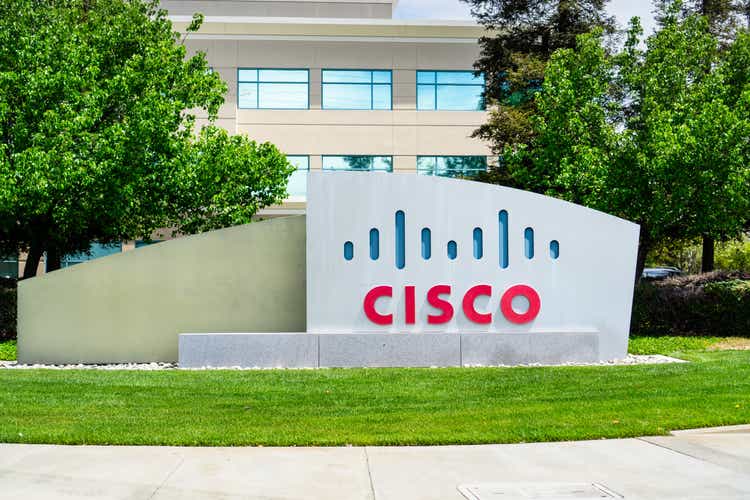 Investment firm Credit Suisse is "cautiously optimistic" on Cisco Systems (NASDAQ:CSCO) going into the networking giant's fourth-quarter on Wednesday, even if the Chuck Robbins-led company is facing a number of issues, including a global slowdown.
Analyst Sami Badri, who has an outperform rating and a $60-a-share price target on Cisco's (CSCO) stock, noted that shares are down 27% year-to-date. Badri said investors have shown concerns about the company's market position and losing share to competitors to Arista Networks (NYSE:ANET) and Juniper Networks (NYSE:JNPR), both of which have increased their growth outlooks for 2022, while Cisco (CSCO) has not.
There is also some concern that Cisco (CSCO) could walk away from the guidance that it provided at its 2021 analyst day of roughly 6% revenue and earnings growth on an annual basis through its 2025 fiscal year, could make a large acquisition to "accelerate the transition of revenues to more independently recurring sources" or even cut its gross margin expectations, given that its peers have done the same.
Nonetheless, even though investors have acknowledged that the stock is cheap, sentiment is still low going into the report, Badri explained.
"On balance, we believe a lower revenue growth assumption is prudent with a slightly improving [gross margin] estimate," Badri said, adding that such factor would "complement" Cisco's (CSCO) selective pricing and shipments on products.
Badri also noted that the slowdown in revenue stems from supply chain issues that were previously discussed, as well as the loss of revenue from operations in Russia and Ukraine.
Additionally, Badri said it is "increasingly likely" that Cisco (CSCO) will announce a "significant" acquisition, given that its software business is so interdependent on its hardware shipments. Assuming a large software deal is announced sooner than later, it's likely that it will be dilutive, even if investors view deals "as almost a requirement" for Cisco (CSCO).
Badri estimates that Cisco (CSCO) will report a quarterly profit of 82 cents a share, on $12.54B in revenue on Wednesday, while Wall Street analysts have a consensus expectation that the company will earn 82 cents a share on $12.78B in revenue. Badri added that Cisco (CSCO) could end up reporting better-than-expected gains in its service product orders, given last quarter's results.
Despite all the negativity surrounding Cisco (CSCO), shares are cheap, trading at a 7% free cash flow yield and the company has largely maintained its gross margin and operating margin profiles. Cisco (CSCO) has also navigated through supply chain issues and lost some market share in "big networking equipment sub-categories," which left Badri to note Cisco (CSCO) is an "attractive opportunity."
Last week, Cisco (CSCO) disclosed it was hacked by an unknown entity in May, but said with "moderate to high confidence" that the attack came from a group with links to the UNC2447, Lapsus$ and Yanluowang ransomware operators.