Bed Bath & Beyond jumps nearly 30% as meme stock rally rolls on; up 300% for August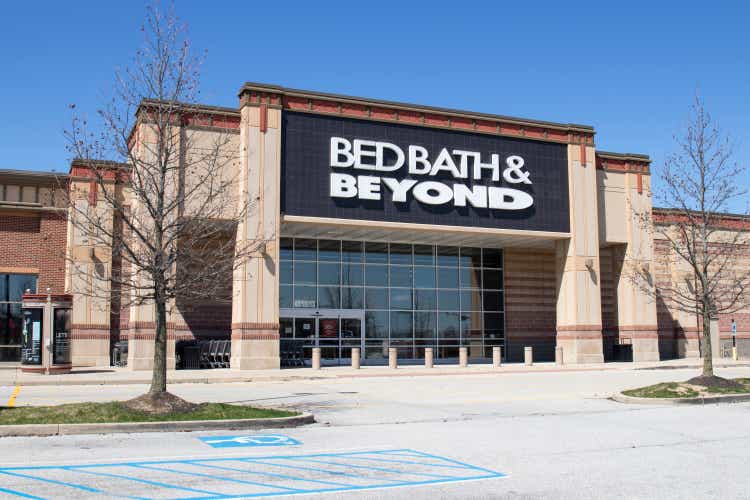 Bed Bath & Beyond (NASDAQ:BBBY) shares soared nearly 30% on Tuesday amid an ongoing upswing in meme stocks. The sharp rise in shares adds to an over 300% run for the stock since the end of July.
At one point in the session, BBBY was up nearly 79% for the day. The furious activity also prompted a trading halt for volatility. The rally came as the stock continued to draw attention from short squeeze-eyeing meme traders following the disclosure of call-buying from GameStop (GME) chairman Ryan Cohen's venture capital firm RC Ventures. Per the disclosure, the Chewy founder bought January 2023 calls on more than 1.6M shares with strike prices between $60 and $80, fueling a squeeze.
Nearly 387M shares changed hands on Tuesday, well above the typical daily volume of about 18M.
The stark rally caught the eye of B. Riley Financial analyst Susan Anderson, who assigned a Sell rating to the stock on Tuesday.
"BBBY has recently gained the attention of retail traders in the Wall Street Bets Reddit forum again, which gained notoriety during the GameStop saga back in January 2021," she told clients. "We believe that BBBY is currently trading at unrealistic valuations."
The stock's surge has hit short-sellers hard thus far.
"Short sellers have been very active in BBBY even though this has not been a profitable trade over the long and short term," Ihor Dusaniwsky, head of predictive analytics at S3 Partners told SeekingAlpha. "A large portion of the short selling occurred over the last thirty days with 5.04M shares shorted, worth $81M, a 17.7% increase in the total amount of shares shorted as its stock price rose 223%. Shorts are apparently looking for an eventual pullback to this recent sharp rally."
Year to date, short-sellers are down a stark $560M in bets against the beleaguered retailer, turning sharply from a previously positive trend prior to August's rally. Indeed, Tuesday's losses alone have risen above $300M, per the data and predictive analytics firm's data.
However, Bed Bath & Beyond (BBBY) was far from the only heavily-shorted meme candidate to carry higher on Tuesday. Indeed beaten down and heavily-shorted names like Party City Holdco (PRTY) +23.72%, Blue Apron (APRN) +31.25%, Express (EXPR) +13.22%, Newegg Commerce (NEGG) +6.85%, Global E-Online (GLBE), and Torrid Holdings (CURV) +11.73% were all notable gainers on the day.
Of course, GameStop (GME) also rose significantly, marking an 11.12% gain at the midpoint of trading.
Those betting against the video game retailer have likewise been battered by the stock's strong performance in 2022. Short-sellers are down $781 million in year-to-date mark-to-market losses, per S3 Partners, with the bulk of these losses also occurring in August.
"GME is a very crowded short and a very squeezable stock (100.00/100.00 Squeeze Score)," Dusaniwsky told SeekingAlpha. "A large total amount of short interest, large SI % Float, tight stock borrow market with fees over 30% and large recent mark-to-market losses make it a prime squeeze candidate. If GME's upward stock price trend continues we should see short-side buy-to-covers hitting the market and pushing up its stock price."
Read how the SeekingAlpha Quant team predicted the squeeze earlier this month.