July's credit card metrics signal consumers in good shape, but trends normalize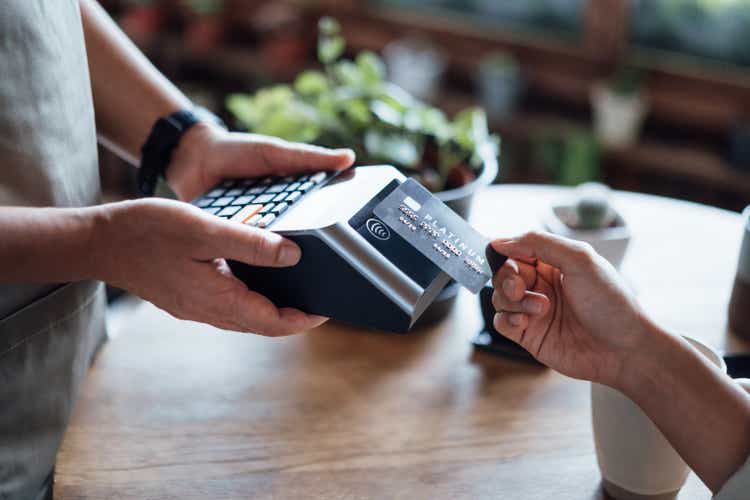 Credit card data across eight issuers showed that U.S. consumers stayed in relatively good shape in July as delinquency and net charge-off rates were still below pre-pandemic levels. Still, both metrics rose in the past year as the Federal Reserve embraces its interest-rate hiking campaign.
In a backdrop of persistently high inflation and a strong labor market, consumers kept spending as credit card firms' principal receivables gained some more steam in July. In other words, lending activity was robust despite increasing concerns about a recession.
Furthermore, consumer payments climbed 7% Y/Y in July suggesting that "consumers are not wilting in this summer heat," said Anna Zhou, economist for the Bank of America Institute.
Credit card issuer's delinquency rate, meanwhile, stood at 1.89% on average in July, up from 1.78% in June and 1.46% in July 2021, as seen in the table below. July's average net charge-off rate fell to 2.01% from 2.09% in June but increased from 1.82% in the year-ago month. That implies the pace of credit normalization is accelerating, as fiscal support programs that were extended to consumers during the pandemic have now mostly come to an end.
"We expect DQ rate formations to remain on an up-and-to-the-right trajectory as the Fed proceeds through the hiking cycle and believe the lines between normalization and degradation are likely to blur in the months ahead as initial claims continue to rise," Wolfe Research analyst Bill Carcache wrote in a note.
July delinquency rates for Capital One Financial (NYSE:COF), Bread Financial (NYSE:BFH) and Synchrony Financial (NYSE:SYF), all of which have outsized exposure to consumers with low credit scores, have trailed above their three-month averages. Carcache pointed out that he remains most cautious on those names.
On a brighter note, net charge-offs for JPMorgan (NYSE:JPM), Discover Financial Services (NYSE:DFS), Bread Financial (BFH) and Bank of America (NYSE:BAC) have improved M/M in July.
The overall acceleration in credit metrics, though, is "something to keep an eye on," Morgan Stanley analyst Betsy Graseck wrote in a note to clients. "We expect deterioration from here will take losses and delinquencies to pre-pandemic levels by mid-to-late 2023, faster than consensus currently assumes."
With the exception of American Express (NYSE:AXP) -2% and Discover Financial (DFS) -6.9%, credit card stocks have been outpaced by the stock market (SP500) -10.4% YTD, according to this chart.
In June, consumer credit expansion nearly doubles, jumps past consensus.
2022
Company
Ticker
Type
July
June
May
Capital One
(COF)
delinquency
2.56%
2.35%
2.22%
2.38%
charge-off
2.36%
2.20%
2.40%
2.32%
American Express
(AXP)
delinquency
0.70%
0.70%
0.70%
0.70%
charge-off
0.80%
0.80%
0.90%
0.83%
JPMorgan
(JPM)
delinquency
0.66%
0.66%
0.67%
0.66%
charge-off
1.02%
1.18%
1.27%
1.16%
Synchrony
(SYF)
delinquency
2.90%
2.70%
2.70%
2.77%
adjusted charge-off
3.00%
2.70%
2.90%
2.87%
Discover Financial
(DFS)
delinquency
1.84%
1.76%
1.71%
1.77%
charge-off
1.90%
1.99%
2.03%
1.97%
Bread Financial
(BFH)
delinquency
4.80%
4.40%
4.00%
4.40%
charge-off
4.50%
5.40%
6.20%
5.37%
Citigroup
(NYSE:C)
delinquency
0.79%
0.79%
0.78%
0.79%
charge-off
1.19%
1.10%
1.39%
1.23%
Bank of America
(BAC)
delinquency
0.85%
0.84%
0.84%
0.84%
charge-off
1.27%
1.23%
1.42%,
1.25%

Avg. delinquency
1.89%
1.78%
1.70%
1.79%
Avg. charge-off
2.01%
2.09%
2.51%
2.20%