Trump SPAC Digital World gains even amid effort to delay earnings report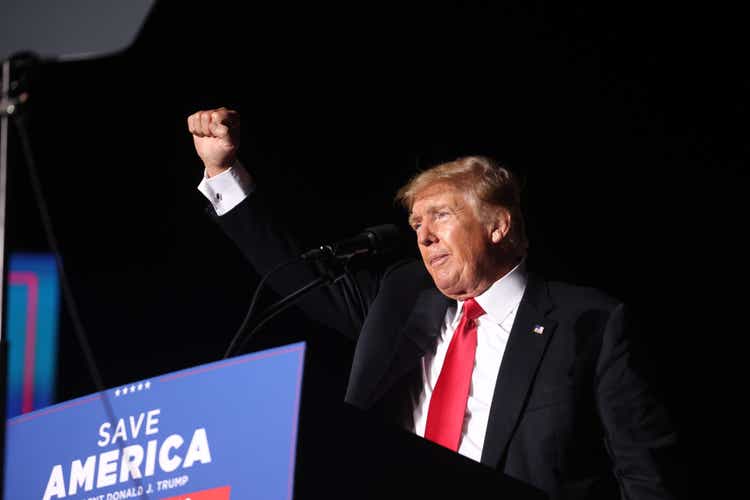 Trump SPAC Digital World Acquisition (NASDAQ:DWAC), which is taking Trump's social media company public, rose 3.7% even as the company filed to delay the release of its Q2 results.
Digital World, which is taking Trump's Truth Social platform public, said it will file its form 10-Q within the five day grace period provided by the extension rule, according to a regulatory filing on Tuesday.
Digital World (DWAC) disclosed in the NT 10-Q filing that for the three months ended June 30 it had net loss of approximately $4.7 million. The delayed earnings news also comes after the SPAC last Tuesday asked holders to allow it to extend the date it needs to complete its merger by a year to Sept. 8, 2023. It also set a tentative date for a holder meeting for Sept. 6.
Shares of Digital World (DWAC) fell 6% last week after the FBI raided the former president's Mar-a-Lago estate in Palm Beach, Florida.
Shares of DWAC have plunged 40% year-to-date as the company has been beset by regulatory probes and potential competition with a Twitter controlled by billionaire Elon Musk, who has said he would allow Trump back on the platform that he was banned from last year.
DWAC in recent months has disclosed several subpoenas it received in regards to its deal to take Trump Media & Technology Group public. The New York Times last month reported that regulators are said to be investigating a surge in trading before the announcement of the deal to take Trump's Media & Technology Group public through DWAC.
Dear Readers: We recognize that politics often intersects with the financial news of the day, so we invite you to click here to join the separate political discussion.