Take-Two Interactive falls as Deutsche Bank downgrades, citing lack of 'material catalyst'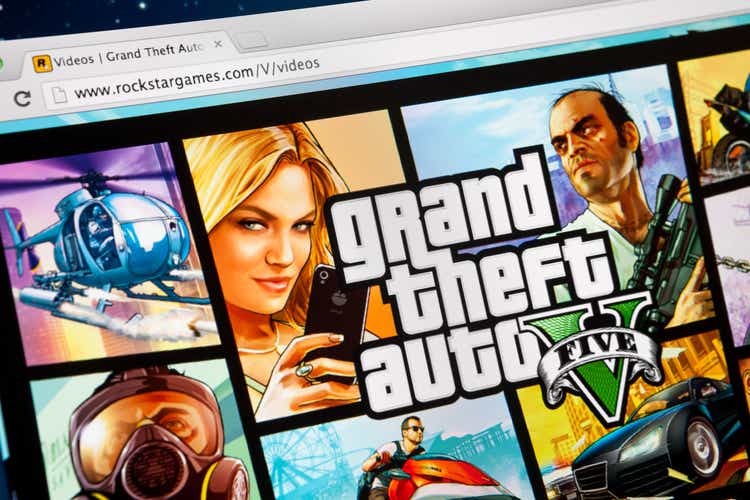 Take-Two Interactive (NASDAQ:TTWO) shares fell on Wednesday as Deutsche Bank downgraded the video game company, noting its "balanced" near-term outlook and lack of a "material catalyst" to move the stock higher.
Analyst Bryan Kraft moved his rating on Take-Two Interactive (TTWO) shares to hold from buy and cut his price target to $160 from $200, noting that the next few quarters could be impacted by a weaker global economy. And though the firm is positive on Take-Two Interactive (TTWO) long-term outlook, there is nothing to really get excited about in the interim.
Take-Two Interactive (TTWO) shares fell almost 2% to $133.99 in premarket trading.
In addition, Kraft lowered his net bookings by roughly 10% and adjusted earnings per share estimates by approximately 20% for fiscal 2024 and 2025 after the maker of the Grand Theft Auto series recently cut its guidance outlook, including a "softer outlook for the Zynga portfolio."
Earlier this month, Take-Two (TTWO) forecast fiscal second-quarter bookings $1.5B to $1.55B, which was below consensus estimates for $1.73B. The company also said it expects to lose between 86 cents and 96 cents a share, on revenue in a range of $1.37B to $1.42B for the quarter.
For its 2023 fiscal year, Take-Two (TTWO) said bookings would be between $5.8B and $5.9B, while analysts had forecast $6.4B in bookings. The company also expects to report a full-year net loss of $2.50 to $2.75 a share, on revenue of $5.73B to $5.83B.
Research firm NPD Group recently released data that said video game sales in the second quarter fell 13% year-over-year.
Analysts are mostly optimistic on Take-Two Interactive (TTWO). It had an average rating of BUY from Seeking Alpha authors, while Wall Street analysts rate it a BUY. Conversely, Seeking Alpha's quant system, which consistently beats the market, rates SNOW a HOLD.