Retail sales headline number flat in July, sales ex-gas, autos rise more than estimate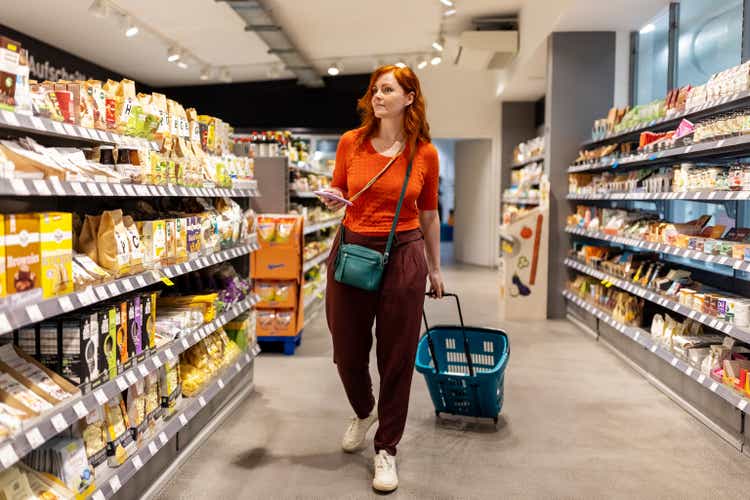 U.S. retail sales came in at $682.8B in July, flat from the previous month, but still up 10.3% from a year ago. With the Consumer Price Index also flat vs. June, it appears that consumers held the line on spending.
July Retail Sales: 0.0% M/M vs. +0.1% expected and +0.8% prior (revised from +1.0%).
Sales were still strong at gasoline stations, up 39.9% from a year ago.
"Today's retail sales number is a direct reflection of inflation's impact on consumer spending. Americans have had to trade down or delay purchases as inflation continues to squeeze household budgets, and that's apparent in today's 0.0% month-over-month change in retail sales," said Claire Tassin, retail and e-commerce analyst at Morning Consult.
Ex-gas and autos:+0.7% M/M vs. +0.3% expected and +0.7% prior (unchanged). The figure shows that consumers shifted their spending to other categories as the price of gasoline fell during July. Food and rent prices have been rising as seen in last week's CPI report.
"There's good news in these numbers though, as gasoline spending declined from June to July (but of course is still up significantly over last year). Online sales growth (up 2.7%) is noteworthy as well, as the share of consumers who shop online for the purpose of saving money has risen in recent months," Tassin said.
Bankrate Senior Industry Analyst Ted Rossman also noted the shift toward ecommerce. "The category with the second-largest year-over-year gain was nonstore retailers, up 20.2% from July 2021. It seems that Amazon Prime Day was a big success. However, large rivals such as Target and Walmart – especially Target – were less upbeat during their recent earnings calls." Such comments indicate deflationary pressure at some retailers, he said.
Retail sales (less autos): +0.4% M/M vs. -0.1% expected and +0.9% prior (revised from +1.0%).
Retail sales control group: +0.4% M/M vs. +0.6% expected and +0.9% prior (revised from +0.8%).
Total sales for the May through July 2022 period increased 9.2% from the same period a year earlier.
Bankrate's Rossman sums up the report: "Retail sales are holding their own right now. That's actually a pretty good sign for consumers and the economy, all things considered. The biggest questions moving forward are how long inflation will remain high, and how much consumers will change their behavior as a result."
Previously (Aug. 16), July's credit card metrics signal consumers in good shape, but trends normalize