Cisco pops as guidance, Q4 results top expectations amid concerns of slowdown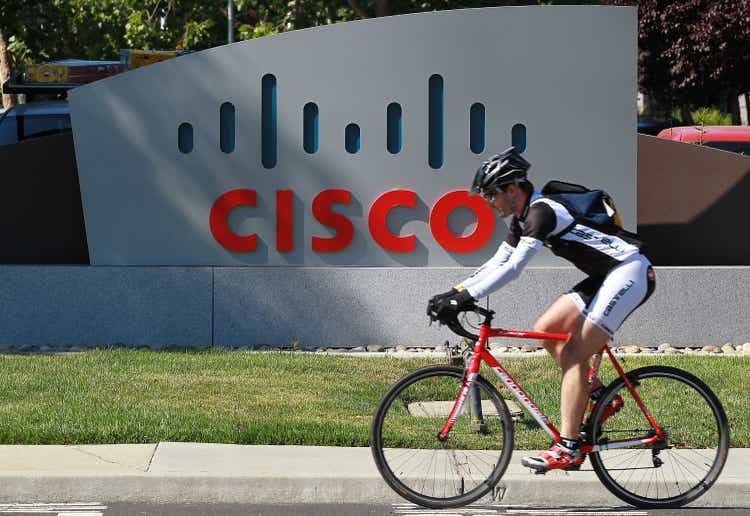 Cisco Systems (NASDAQ:CSCO) shares rose almost 4% in after-hours trading as the networking giant posted fourth-quarter results that topped expectations, aided by strength in services and gave strong guidance for its 2023 fiscal year.
Cisco (CSCO) said it expects revenue for its 2023 fiscal year to be up between 4% and 6% from 2022, compared to expectations of 3.3%. The company also said it expects earning excluding one-time items, to be between $3.49 and $3.56 per share.
Looking to the first quarter, the networking giant anticipates earnings of 82 cents to 84 cents a share, with revenue up between 2% and 4% over the first quarter a year ago.
Analysts were expecting Cisco (CSCO) to earn 84 cents, a share with revenue declining 0.24% year-over-year.
Speaking on a conference call to discuss Cisco's (CSCO) results, Chief Executive Chuck Robbins said that he expects the company to see "strong performance across our [technology] portfolio," and that the supply chain constraints that affected Cisco's (CSCO) business earlier this year "began to ease slightly at the back half of the [fourth] quarter," and that demand signals remain solid.
Robbins said that while Cisco (CSCO) isn't completely immune to "macro trends" affecting the economy, "Our business has emerged stronger than before the pandemic."For its fiscal fourth quarter, which ended July 30, Cisco (CSCO) earned 83 cents a share on $13.1B in revenue. Services revenue came in at $3.41B, topping expectations of $3.35B.
Wall Street analysts were expecting earnings of 82 cents a share on $12.78B in revenue.
Cisco (CSCO) recently disclosed it was hacked by an unknown entity in May, but added with "moderate to high confidence" that the attack came from a group with links to the UNC2447, Lapsus$ and Yanluowang ransomware operators.