Kohl's shares slide after deep cuts to sales, earnings guidance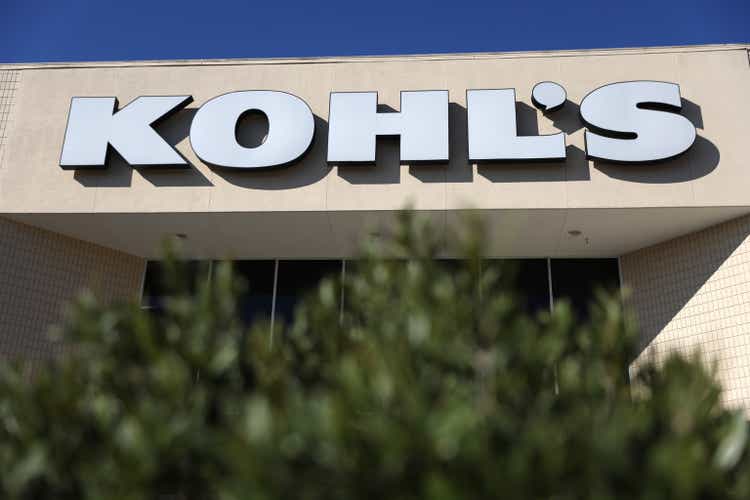 Kohl's Corporation (NYSE:KSS) shares slid sharply in Thursday's premarket action after the company cut its full-year sales, EPS, and margin guidance.
The Wisconsin-based retailer beat revenue expectations despite posting an 8.1% year-over-year decline in net sales and reported EPS essentially in-line with expectations for the second quarter. However, management noted significant pressure on profits, inventory issues, and a slowdown in store visits. Comparable sales fell 7.7% while inventories rose 48% from the prior year.
"Second quarter results were impacted by a weakening macro environment, high inflation and dampened consumer spending, which especially pressured our middle-income customers," CEO Michelle Gass said. "We have adjusted our plans, implementing actions to reduce inventory and lower expenses to account for a softer demand outlook."
This adjustment includes sizable trimming of full-year targets, including an expected net sales decline in the range of 5% to 6% as compared to a prior forecast of 0% to +1% growth. Analysts had anticipated a smaller 3.74% drop. EPS guidance was likewise slashed to an expectation of $2.80 to $3.20 from the prior outlook of $6.45 to $6.85 and well below the consensus of $4.19. Additionally, operating margin is now expected to be in the range of 4.2% to 4.5%, below the prior guide of 7.0% to 7.2%.
Shares of Kohl's (KSS) fell 7.25% in premarket trading on Thursday.
Nonetheless, Gass stressed the company's commitment to shareholder return programs.
"While 2022 has turned out to be more challenging than initially expected, Kohl's remains a financially strong company with significant long-term growth potential," she said. Our $500M accelerated share repurchase underscores our steadfast confidence in Kohl's future and focus on creating shareholder value. We also remain firmly committed to our current dividend."
Read more on the details of the results.