Streaming takes over as top use of TV viewing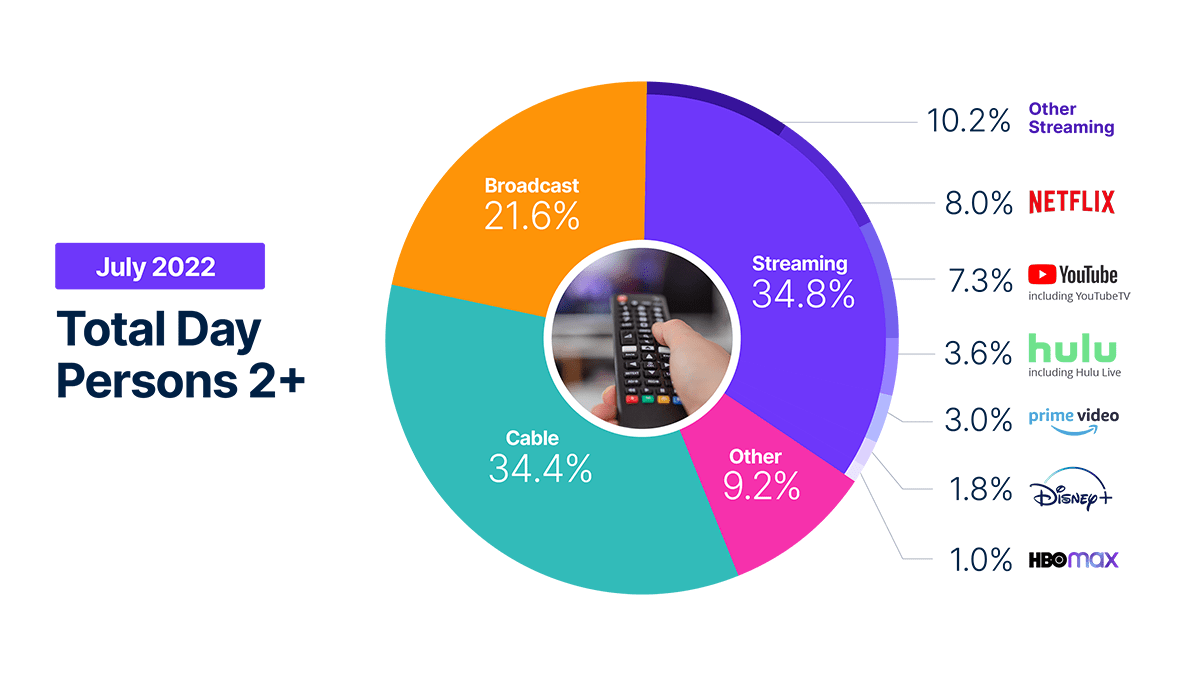 Streaming video became the top use of television time in July - a first, and the latest record surge in direct-to-consumer programming amid the ongoing secular decline of broadcast and cable viewing.
After four months of new highs - and with traditional TV's summer slowdown - streaming rose to capture a 34.8% share of usage according to "The Gauge" from Nielsen, the ratings giant's monthly macro look at TV delivery platforms.
That took the top-share spot from longtime leader Cable, which declined to 34.4% (for its fourth straight monthly drop), and stayed ahead of Broadcast, which dropped for a sixth straight month to a 21.6% share. "Other" usage - heavily videogaming, which can benefit from summer's school-less season - rose for a second month, to 9.2%.
Aside from share changes, overall TV usage was flat from June as well as from July 2021, so usage patterns are staying consistent, amplifying the trend toward streaming as a real shift. Streaming volume grew nearly 23% year-over-year.
Digging into particular streaming names, four of them boosted their monthly viewing shares. Netflix (NASDAQ:NFLX) rose to an 8.0% share from last month's 7.7% on the back of Stranger Things; YouTube and YouTube TV (NASDAQ:GOOG) (GOOG) boosted its share to 7.3% from last month's 6.9%; Hulu (NYSE:DIS) (CMCSA) rose to a 3.6% share from 3.3%, helped by Only Murders in the Building and The Bear; and Amazon Prime Video (AMZN) gained to a 3.0% share from 2.9% with hits in The Boys and The Terminal List.
Disney+ (DIS), meanwhile, shrank in share (to 1.8% from 2.0%), and HBO Max (WBD) held steady at 1%. "Other streamers" (a catch-all for smaller players) grew that category's share to 10.2% from 9.9%.
Turning to weekly streaming program ratings, Stranger Things (NFLX) finally gave up its grip on the top spot, only to be replaced by another Netflix show. Virgin River was the most-streamed at 2.638B minutes to Stranger Things' 2.277B, according to Nielsen's most recent weekly numbers (for July 18-24).
It was a Netflix-heavy list overall, though. Behind Stranger Things was film The Gray Man (1.438B minutes) and Resident Evil (772M minutes), and fifth was a series on both Netflix and Hulu (DIS) (CMCSA), Alone (745M minutes).
Aside from Hulu sharing Alone, the only other non-Netflix entry in the top 10 programs was The Boys, streaming 532M minutes for Amazon Prime Video (AMZN).
(A reminder that Nielsen streaming ratings now incorporate viewing from six major streamers: Amazon Prime Video (AMZN), Apple TV+ (AAPL), Disney+ (DIS), HBO Max (WBD), Hulu (DIS) (CMCSA), and Netflix (NFLX).)
Pay TV distributors: Comcast (CMCSA), Charter (CHTR), Dish Network (DISH), Verizon FiOS (VZ), Optimum/Suddenlink (ATUS), Atlantic Broadband (OTCPK:CGEAF), Sparklight (CABO).
Relevant local broadcast tickers: Nexstar Media Group (NXST), Sinclair Broadcast Group (SBGI), Gray Television (GTN), Tegna (TGNA), E.W. Scripps (SSP). National broadcasters: ABC (DIS), NBC (CMCSA), CBS (PARA) (PARAA), Fox (FOX) (FOXA). And some ad-tech names tied to connected TV: The Trade Desk (TTD), Magnite (MGNI), PubMatic (PUBM), Criteo (CRTO), Roku (ROKU).