U.S. natural gas prices surge near $10 as European energy crisis ramps up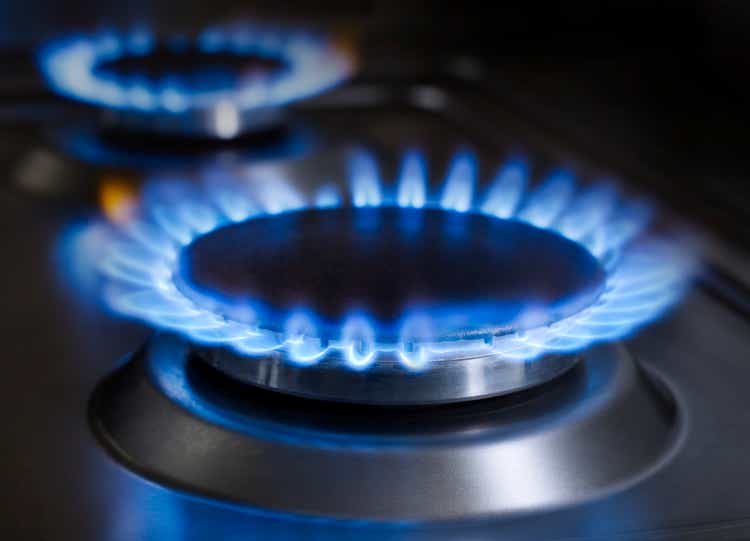 U.S. natural gas prices climbed to another 14-year high on Monday, with front-month Nymex gas (NG1:COM) +3.1% to $9.634/MMBtu, as European prices smashed records while skyrocketing to 15x the average summertime price.
Gazprom said on Friday that gas supplies from the Nord Stream 1 pipeline into Germany will be cut to zero because of three days of maintenance starting August 31 and then return to volumes of just 20% of capacity.
Germany, where power prices have surged above €700/MWh for the first time, has warned that Russia could further cut gas supplies and reiterated a call to conserve energy.
The Dutch front-month contract, the European benchmark, popped 17% to €286/MWh after rising for five straight weeks, and the U.K. equivalent price surged 23% on Monday.
Also, short-term French nuclear power availability dropped to only 42% of available capacity as the Bugey 2 reactor is down unexpectedly for three days to Wednesday, pushing French power prices up 15% to €840/MWh.
ETFs: (NYSEARCA:UNG), (UGAZF), (DGAZ), (BOIL), (FCG), (KOLD), (UNL)
Potentially relevant U.S. tickers include (EQT), (RRC), (AR), (CTRA), (SWN), (CHK), (CRK)
Cheniere Energy (LNG) +1.5% in Monday's trading to an all-time high $169.40/share.
The weekend issue of Barron's discussed "eight stocks to play pumped-up natural gas prices."
The U.S. price surge comes despite National Weather Service forecasts showing milder temperatures and weakening domestic demand as recent heatwaves end in Texas and other locations.
In Europe, unusually hot and dry weather this summer has added to the continent's energy woes; low water levels on the Rhine River caused Shell to cut production at its Rhineland oil refinery in Germany.