Southwestern Energy +9% as U.S. natural gas hits another 14-year high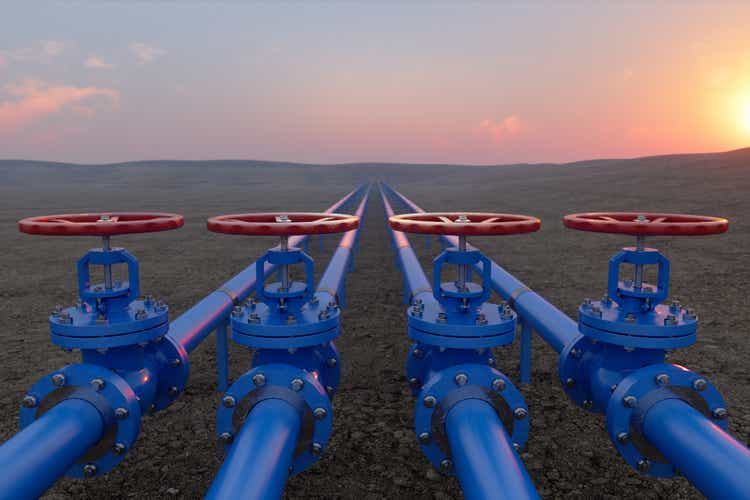 Southwestern Energy (NYSE:SWN) shoots higher in Monday's trading, +9%, as U.S. natural gas prices rally to another 14-year high and Goldman Sachs raises its stock price target to $8.25 from $7.50.
Nymex natural gas (NG1:COM) for September delivery closed +3.7% at $9.68/MMBtu, the highest settlement value for a front-month contract since July 23, 2008, as fears about shortages in Europe also are felt in the U.S. market.
Russia said last week the Nord Stream 1 pipeline to Germany would stop flowing gas for three days of maintenance, but "the real concern for the market is whether flows will resume after this period," ING analysts said.
On Southwestern (SWN), Goldman said it is confident that "favorable gas prices next year can further reduce balance sheet risk and enhance emerging capital returns potential," adding the stock should benefit over the long term from the "development of LNG markets and the potential for premium pricing."
Other gas-focused equities also are rushing higher into the close: (RRC) +5.8%, (CRK) +5.8%, (AR) +4%, (CHK) +3.8%, (EQT) +3.3%, (CTRA) +1%.
ETFs: (UNG), (UGAZF), (DGAZ), (BOIL), (FCG), (KOLD), (USL)
Southwestern Energy (SWN) is "poised to outperform on expected higher oil and gas prices," Alberto Abaterusso writes in a bullish analysis posted recently on Seeking Alpha.