Medtronic drops despite Q1 beat as currency headwinds weigh on topline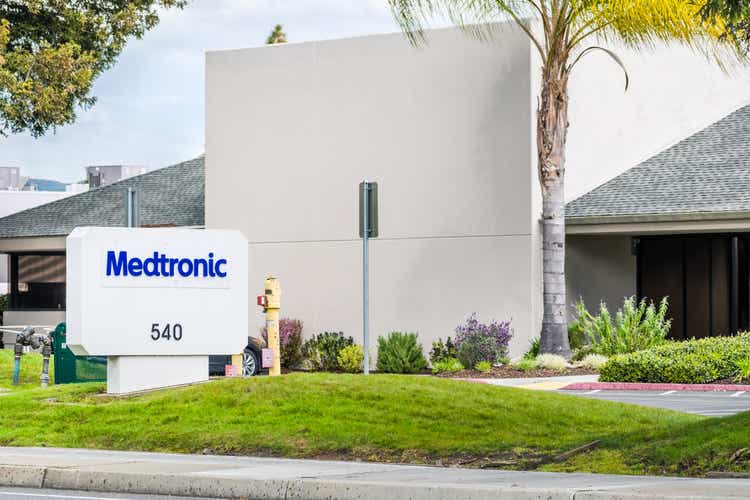 Medtronic (NYSE:MDT) shares traded lower in the morning hours Tuesday even after reporting better-than-expected financials for the first quarter of fiscal 2023 as the medical device maker witnessed a decline in revenue amid currency impact.
Worldwide revenue for Q1 FY23 dropped ~8% YoY to $7.3B on a reported basis. In comparison, the decline stood at only ~4% YoY, excluding a $351M negative impact from foreign currency translation and a $20M contribution from the company's recent acquisition of Intersect ENT.
The Medical Surgical portfolio led the decline generating $2.0B in revenue for the period with a ~14% YoY drop, while the Cardiovascular portfolio brought $2.7B in revenue with a ~6% YoY contraction.
Meanwhile, the Neuroscience portfolio contracted ~4% YoY, generating $2.1B in revenue, while revenue from the Diabetes segment fell ~5% YoY to $541M as U.S. revenue dropped mid-teens with no new product approvals.
The U.S., the largest contributor to the topline, added $3.8B in revenue with ~8% YoY decline, while non-U.S. developed market revenue fell ~10% YoY to $2.3B. The adj. gross margin reached 66.5% from ~68.8% in Q1 FY22, driving non-GAAP EPS ~17% YoY lower to $1.13.
Chief Executive Geoff Martha noted that the underperformance highlights the supply chain issues and post-COVID recovery in the prior-year period.
"The company's first quarter organic revenue results reflect the impact of known supply chain shortages, as well as unfavorable comparisons to the prior year given last year's strong ventilator sales and market procedure recovery following the third COVID-19 wave," he said.
Reacting to results, Cowen, with an Outperform rating and $117 per share target on MDT, noted that the quarterly report exceeded expectations.
However, the firm added: "as anticipated, macro factors – primarily supply-chain disruption, pressure from inflation and worsening F/X – weighed upon the company's F1Q results, along with a difficult year-over-year comparison."
With a Buy rating and $105 per share target, Stifel noted that results were in line despite macro pressures and tough prior-year comps.
The analyst added: "The unchanged sales growth guidance suggests that the company's expected rest-of-year gradual revenue acceleration outlook is on track."
"Looking ahead, we expect organic revenue growth to improve each quarter, with the second half of the fiscal year much stronger than the first," MDT's Chief Financial Officer Karen Parkhill remarked.
Indicating a ~4% – 5% organic revenue growth and $5.53 – $5.65 of adj. EPS, MDT reiterated the previously issued guidance for the full year.