Pfizer, Moderna to deliver 175M updated COVID shots for September rollout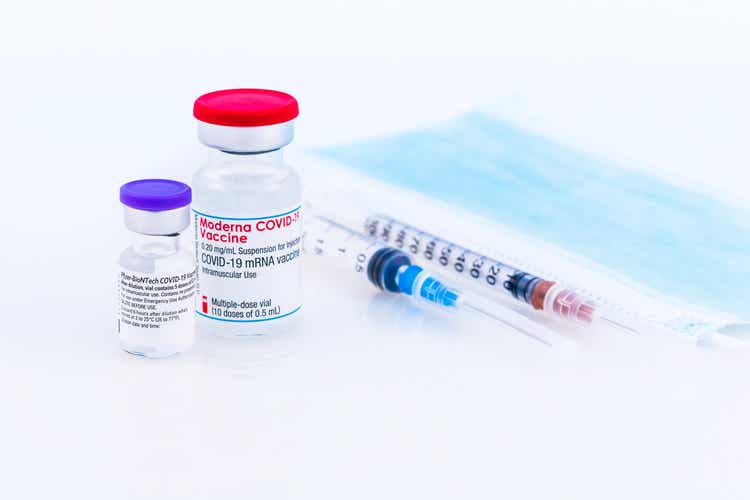 The U.S. government has completed plans to implement a fall booster campaign in September that will deliver 175M doses of updated COVID-19 vaccines to states, pharmacies, and other vaccination sites.
The Biden administration is purchasing the redesigned COVID-19 shots from vaccine makers who received guidance from the FDA in June to update their vaccines to protect against the latest subvariants of Omicron and the original COVID strain.
Over the past few weeks, messenger-RNA-based vaccine makers Pfizer (NYSE:PFE)/ BioNTech (BNTX) and their rival Moderna (MRNA) announced new agreements to deliver 105M and 66M doses of updated COVID-19 vaccine doses to the government, respectively.
The health officials have informed states, pharmacies, and other sites to start preordering the shots now through Aug. 30, according to the fall vaccination planning guide published by the Centers for Disease Control and Prevention (CDC).
Shipments will begin after the regulators clear the shots, which will also include components to protect against the B4 and B5 subvariants of the Omicron.
The government expects that initially Pfizer (PFE)/BioNTech (BNTX) vaccine will be cleared for people aged 12 years and above, and Moderna (MRNA) vaccine will be cleared for those aged 18 years and above.
Two types of vaccines will be available at sites: Fully vaccinated individuals will receive the updated shots, while those who are not fully vaccinated will receive the original COVID-19 shots.
Listed pharmacy retailers: CVS Health Corporation (CVS), Walgreens Boots Alliance (WBA), Rite Aid Corporation (RAD)
The fall booster campaign comes as the U.S. plans a gradual end to government-led purchases of COVID-19 shots and treatments ahead of a shift to the commercial market.