Palo Alto Networks jumps 10%+ after strong guidance, while cloud software stocks eke out gains
Aug. 23, 2022 3:04 PM ET
Palo Alto Networks, Inc. (PANW), VMW, CRM, AVGO
ORCL, ADBE, CHKP, INTU, FTNT, CRWD, CYBR
By:

Chris Ciaccia,

SA News Editor
6 Comments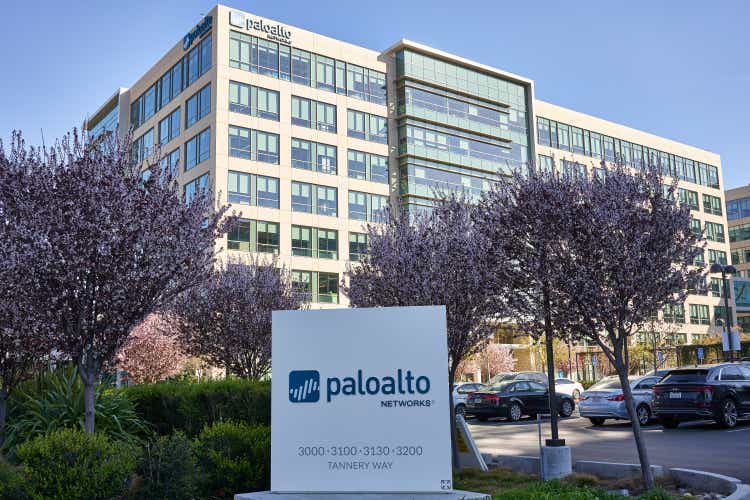 Palo Alto Networks (NASDAQ:PANW) shares jumped some 12% on Tuesday after the cybersecurity company posted strong fourth-quarter results and guidance, leading several cloud computing names higher.
The Nikesh Arora-led Palo Alto (PANW) said first-quarter billings would be between $1.68B and $1.7B, while revenue is expected to be between $1.54B and $1.56B. Analysts are expecting billings of $1.74B and $1.54B in revenue.
For fiscal 2023, Palo Alto (PANW) expects sales to be between $6.85B and $6.9B, with earnings per share expected to be between $9.40 and $9.50 per share. Analysts are expecting the company to generate $6.76B in revenue and earnings of $9.30 per share.
Wedbush Securities analyst Dan Ives noted that the results were a "another major positive data point" for the sector, which he said is in the midst of a "massive growth cycle" over the next few years, as geopolitical tensions continue to rise.
The jump in Palo Alto Networks (PANW) shares led other cyber security stocks higher on Tuesday, including Fortinet (FTNT), Crowdstrike Holdings (CRWD), CyberArk (CYBR) and CheckPoint Software (CHKP).
VMware (NYSE:VMW) gained nearly 1% on Tuesday, even as it was reported that the cloud computing company was slowing the pace of some deals with customers ahead of its pending acquisition by Broadcom (NASDAQ:AVGO).
"VMware has made commitments to preserve the value of VMware until the acquisition is closed," the company wrote in an internal message, according to Insider. "Therefore, we have reinforced our deal review."
Other cloud computing stocks were mixed following the news, as Salesforce (NYSE:CRM) dipped 0.5% in mid-day trading, while Oracle (ORCL), Adobe (ADBE) and Intuit (INTU) saw fractional gains.
Salesforce (CRM) is slated to report second-quarter results on August 24 after the close of trading.
Last month, investment firm BMO Capital Markets raised its price target on Palo Alto Networks (PANW), highlighting the firm's confidence in the company's long-term growth outlook.