La-Z-Boy stock rises as Q1 sales see growth in retail segment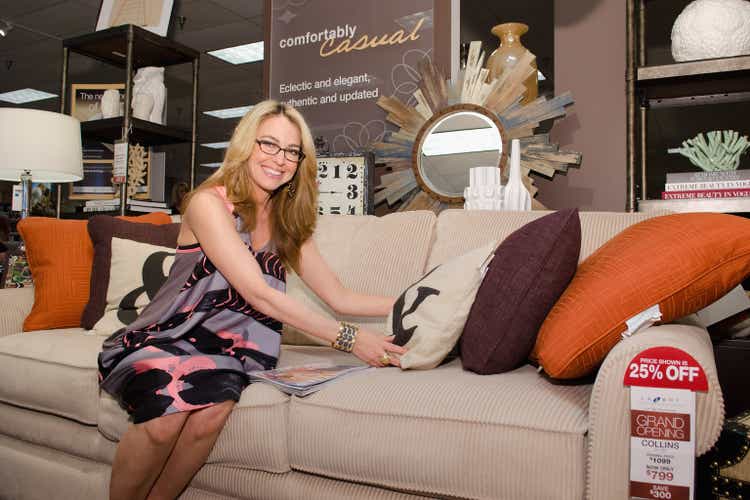 La-Z-Boy (NYSE:LZB) stock rose ~6% on Aug. 24, after the company's FQ1 results beat analysts' estimates.
Q1 non-GAAP EPS grew +65.45% Y/Y to $0.90.
Consolidated sales increased +15.11% Y/Y to $604.09M. The company said the growth reflecting pricing and surcharge actions and the positive effects of product and channel mix.
Sales from the Retail Segment increased ~30% to $236.02M; while same-store sales increased 25%.
Wholesale segment sales grew +12.28% to $441.82M. La-Z-Boy noted that the increase was driven by realized pricing and surcharge actions along with favorable channel and product mix, partially offset by lower volume, mainly due to some external dealers temporarily delaying receipt of finished goods because of warehouse constraints.
"In the near term, we remain focused on working down our backlog to drive delivered sales and enhance service to customers with shorter, pre-pandemic lead times. Our supply chain team continues to improve results and reduce start-up friction costs at our new plants in Mexico to strengthen wholesale gross margins over time," said La-Z-Boy President and CEO Melinda Whittington.
Joybird delivered sales increased 10% to $43M. LZB added that Joybird posted a loss for Q1, reflecting investments in marketing while facing increases in freight costs and friction costs linked with the opening of a second manufacturing facility in Tijuana.
The company expects Joybird to be profitable for the full fiscal year.
Outlook:
"While we maintain our long-term commitment to steady sales growth and margin progress, we continue to anticipate results may vary significantly during fiscal 2023 as a result of current industry dynamics as well as macroeconomic and geopolitical uncertainty and its effect on consumer sentiment," said La-Z-Boy CFO Bob Lucian.
The company expects expects delivered sales for FQ2 2023 to be up 2% to 5% Y/Y in a range of ~$590M to $605M, while consolidated non-GAAP operating margin to be between ~8.0% and 8.5%, according to Lucian. Consensus Revenue Estimate for FQ2 is $595M.