Biden announces $10K student loan forgiveness plan; SoFi stock climbs 7.9% (updated)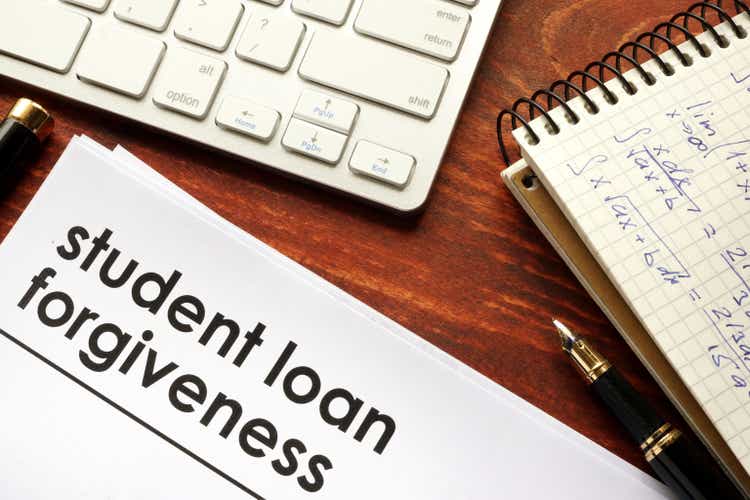 President Joe Biden announced on Wednesday a plan to forgive $10K of student debt for borrowers who earn less than $125K per year and extended the pause on federally backed student loan repayments by four months to Dec. 31, in line with earlier reports.
Pell Grant recipients will get up to $20K of loans held by the Department of Education forgiven, he said.
The Department of Education is also proposing an income-driven repayment plan that protects more low-income borrowers from making any payments and caps monthly payments for undergraduate loans at 5% of a borrower's discretionary income. (Added at 12:50 PM ET).
"To further reduce the cost of college, the President will continue to fight to double the maximum Pell Grant and make community college free," the White House's statement said. (Added 12:50 PM ET)
SoFi Technologies (NASDAQ:SOFI) stock is rising 7.9% in midday trading as the plan provides more clarity on the fintech's outlook. In April, SOFI stock fell after the lender cut its guidance to reflect the extended student loan moratorium. That guidance, though, assumed that the pause would stay in place for the rest of the year. Before today's jump, the stock had dropped 61% year to date.
With student loan repayments frozen since the pandemic started, borrowers have no incentive to refinance their student loans, which has been a large part of the firm's business.
Meanwhile, the company has seen its personal loan segment surging. SoFi (SOFI) originated almost $2.5B in personal loans in Q2, up 21% Y/Y and more than doubling since its 2019 quarterly averages. "Student loan volume of nearly $399M was down to 25% of the average prepandemic volume as the moratorium on student loan business continues to weigh on the business," the company said.
Other student loan-related stocks include SLM Corp. (NASDAQ:SLM), +0.4%, Navient (NASDAQ:NAVI) +0.3%, and Nelnet (NYSE:NNI), roughly flat in midday trading.
On Tuesday, SA contributor Juxtaposed Ideas doubled down on its bullish rating on SOFI.
Dear readers: We recognize that politics often intersects with the financial news of the day, so we invite you to click here to join the separate political discussion.