COVID-19 vaccine makers fall as Biden says pandemic is over (update)
Sep. 19, 2022 3:00 PM ET
Moderna, Inc. (MRNA)
JNJ, PFE, MRK, AZN, NVAX, VXRT, BNTX, CVAC, VAL, VALN
By:

Dulan Lokuwithana,

SA News Editor
273 Comments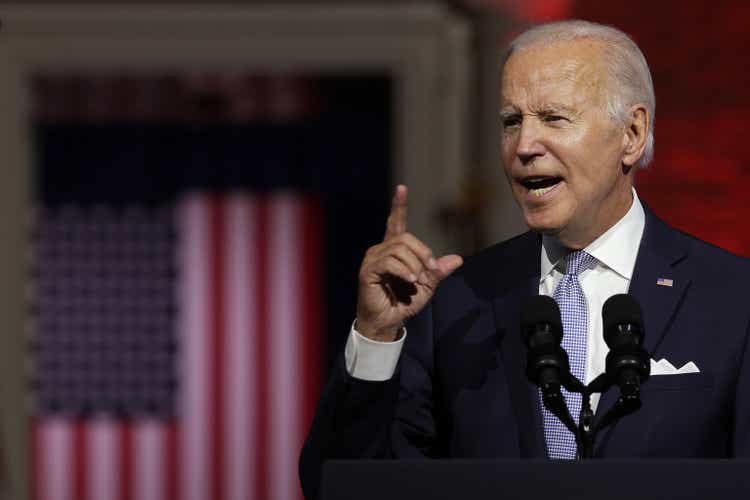 Updated to add latest price moves.
Leading COVID-19 vaccine developers continued to decline towards Monday's close after President Joe Biden said that the pandemic is a thing of the past despite ongoing concerns related to the virus.
"The pandemic is over," he said Sunday during a 60 Minutes interview on the sidelines of the Detroit auto show, adding, "We still have a problem with COVID. We're still doing a lot of work on it. But the pandemic is over."
Shortly after 3:30PM EST, COVID-19 vaccine makers Moderna (NASDAQ:MRNA) and BioNTech (BNTX) were at $125.92 and$ 132.80 falling ~9% while Novavax (NVAX) and Vaxart (VXRT) were at $28.45 and $2.41 marking a ~7% decline, respectively.
European vaccine developers Valneva SE (VALN) and CureVac N.V. (CVAC) had also shed ~19% and ~5%, respectively.
Meanwhile, pharma giants with sizable COVID-19 franchises, Pfizer (PFE), Merck (MRK), Johnson & Johnson (JNJ), and AstraZeneca (AZN), are also in the red.
"If you notice, no one's wearing masks. Everybody seems to be in pretty good shape, and so I think it's changing, and I think [the Detroit auto show resuming after three years] is a perfect example of it," Biden noted during the CBS news interview.
The president's remarks suggest that COVID-19 Public Health Emergency (PHE) declaration is likely to end in January, leading to a potential end to extra federal Medicaid funding, Cowen analyst Rick Weissenstein wrote in a Monday note.
Read: Last week, the Director General of the World Health Organization (WHO), Tedros Adhanom Ghebreyesus, said that the world has never been in a better position to end the pandemic.