Nasdaq, S&P 500 and Dow Jones all jump some 2% as 10-year yield tumbles 20 basis points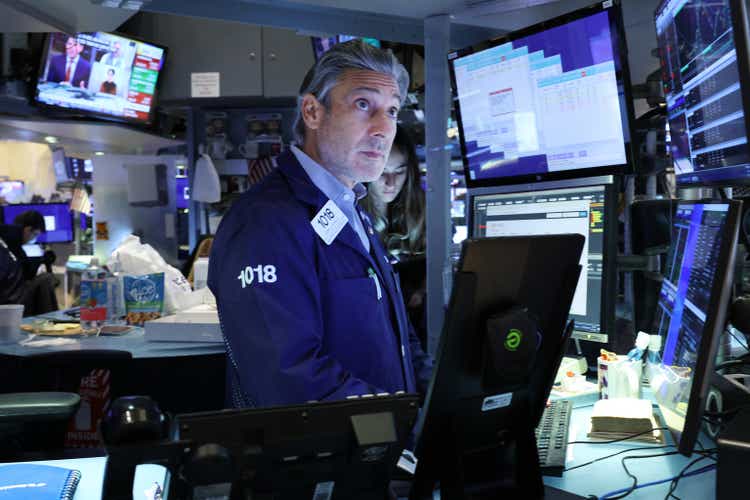 The stock market experienced a large rally as major averages gained ground while yields plunged from recent highs as global rates sank.
The Dow (DJI) ended higher by 1.8% as it jumped 548 points, the S&P 500 (SP500) ended +1.9%, and finished above 3,700. The tech focused Nasdaq Composite (COMP.IND) led the averages as it concluded Wednesday +2%.
"The S&P 500 is down 6 days in a row and made a new 52-wk low," Ryan Detrick of Carson Group tweeted. "Don't shoot the messenger here, but that's happened 20 other times since 1950 and what happens next is pretty bullish. A year later? Higher 90% of the time and up 20% on average."
All of 11 S&P sectors closed in the green, with Energy on top. Info Tech was the lagger as Apple dropped on iPhone worries.
Bonds rallied as the Bank of England moved into the debt market to buy longer dated bonds. The BoE will also delay quantitative tightening. Yields on the 10-year Gilt tumbled more than 40 basis points and the 30-year yield dropped more than a full percentage point.
The 10-year Treasury yield (US10Y) topped 4% earlier on but moved lower after the BoE move. At the end of the session, the 10Y dropped 23 basis points to 3.72%. The 2-year yield (US2Y) fell 19 basis points to 4.12%.
Leo Nelissen, a Seeking Alpha contributor highlighted: "Markets rebounded strongly on Wednesday as a result of the Bank of England's decision to intervene in the bond market, buying long-dated government bonds. It caused the 10-year U.S. Treasury yield to drop to 3.7% after breaking 4.0% as investors are hoping that major central banks might take their foot off the brakes, given the poor state of the global economy. Moreover, the intervention came at a time of "peak-bearishness" as the AAII investor sentiment survey (among others) indicated earlier this month. While the market is not out of the woods yet, it looks like there is room for a rebound in the form of a bear market rally. "
On the economic calendar, August pending home sales declined more than was forecasted. Pending home sales data came in at -2.0% M/M to 88.4 versus the forecasted -0.8% figure.
Among active stocks, shares of DocuSign gained after the electronic-signature technology company said it would cut the size of its workforce by roughly 9%.